Recycling & Resources overview
Facts and initiatives at a glance
Defined as a key topic for EVVA
GRI 301: Materials:
UN Sustainable Development Goals (SDGs), No. 9: Industry, innovation and infrastructure; No. 12: Sustainable consumption and production
Management approach – our why:
Immense sustainability potential for production companies
EVVA uses a large amount of materials for locking cylinder and key production, particularly brass, nickel silver, cardboard, oils, emulsions, key punchings, etc. The potential for recycling and resource conservation is accordingly diverse – and so are the positive effects on the environment. Sustainable handling of materials has therefore been defined as a key topic for EVVA in the stakeholder dialogue.

The reported measurement data was published in EVVA environmental reports and in the energy audit. These are externally audited and confirmed by authorities (e.g. environmental agency, waste management agency, trade authority, representatives of the Chamber of Labour and the Chamber of Commerce) and by sustainability consultants.

All input/output analyses from 2015 to 2020 (2021 will be available for the next update of the sustainability report) with the most important materials required for EVVA to manufacture access systems, can be found in the following pdfs. Of these, wood, cardboard, paper and packaging are renewable materials. We also include brass and nickel silver, as all metal chips generated during processing are fully recycled (see Recycling Materials for more information).

Input/output analyses (in German): 2015, 2016, 2017, 2018, 2019, 2020

The most important materials for EVVA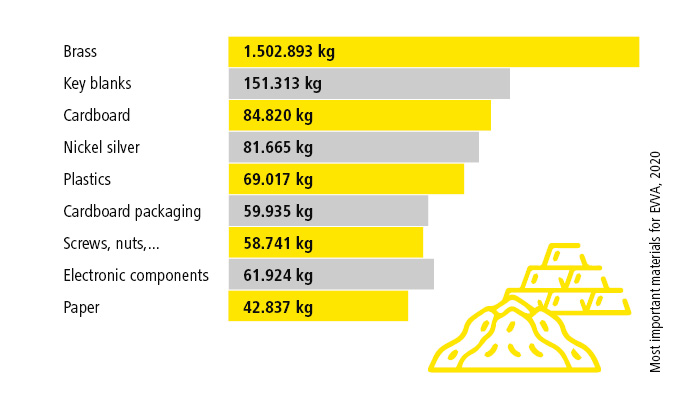 Use of materials
Brass is our main manufacturing material. Brass accounts for about 85% of the total metal used. Brass demand at the headquarters increased by 10% to 1.6 million tonnes from 2015 to 2019. However, due to economic restrictions caused by the pandemic, brass and material demand has fallen by around 10% in 2020 – in line with the decline in manufacturing output. On the other hand, the share of electronic components has increased. The demand for electronic access controls made by EVVA has increased noticeably during the pandemic.
In 2020, EVVA was able to further reduce rejects and waste (read more about waste). The demand for oil also declined in the reporting period due to the increased use of clean production machines: from 6.8 tonnes in 2019 to 6.2 tonnes in 2020

Overview of measures
In order to reduce our use of materials or to deal with them more efficiently, we rely on various strategies and measures. The links will take you to interesting details:
All targets related to recycling & resources can be found under these topics: