Offices and administrative facilities
Office buildings of any size | Authorities | Shared offices
EVVA is a company producing mechanical and electronic locking systems that can rely on decades of experience in terms of typical security requirements in a wide range of industries and organisations. For this reason, you can rest assured that security solutions will always be geared towards your building situation, organisational structure and user demands.
Offices and co-working spaces – these kinds of organisations share one demand:
project-based schedules, tenants come and go – the locking system must be able to handle all these processes
Your requirements:
Ample cylinder range Because you aim to secure all your doors, cabinets, lifts, emergency exit doors using only one system
Optimum key copying protection Because you want to be able to rely on organisational, technical or technological key protection
100% copying protection Because valuables within your company must not be accessible to unauthorised third parties
Continuous logging of all entry and exit events Because you archive confidential and sensitive information
Organised flow of persons Because not everyone must have global access
Our solution:
Mechanical EPS, ICS, MCS access systems
grow with the facility and levels of complexity:
EPS – small to medium-sized office facilities
ICS – larger office facilities and public authorities
MCS – insurances, banks
The electronic AirKey access system
The smartphone is the key
Send keys via the Internet
Component sharing and multi administration
The electronic Xesar access system
Xesar combi keys for mixed systems (mechanical and electronic locking systems)
Simple multi-user management with user roles
Ample door component selection
Compatibility with interfaces
Door monitoring with remote operation
China Unicom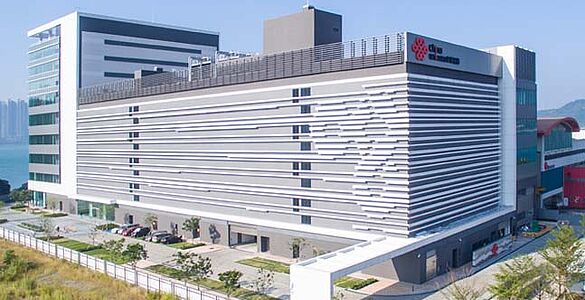 | | |
| --- | --- |
| Product: | ICS |
| Size: | > 500 units |
| Facility type: | Offices |
| Country: | Hong Kong SAR of China |
The China Unicom Global Centre in Hong Kong has been equipped with ICS cylinders made by EVVA.
The China Unicom Global Centre is a telecommunications facility intended to strengthen the position of China Unicom as an important, international network provider. It is most of all intended as a high-speed data centre. As the building demands high levels of security, "The Jardine Engineering Corporation, Ltd.", our local EVVA Partner in Hong Kong, suggested using EVVA's ICS high-security lock cylinders. They offer the best possible protection from picking, drilling and bumping to comply with specified requirement and protect the data centre from potential, unauthorised access. Thanks to the internal recesses, ICS keys are also protected from illegal duplication.
WKCDA Tower - West Kowloon Cultural District Authority Head Office
| | |
| --- | --- |
| Product: | ICS |
| Size: | 101-500 units |
| Facility type: | Offices |
| Country: | Hong Kong SAR of China |
ICS in the offices of WKCDA Tower - West Kowloon Cultural District Authority
The client
The West Kowloon Cultural District is a 40-hectare piece of land envisioned to enrich the local arts scene and provide a platform for interaction, exchange and collaboration. Located in this piece of land is the M+ Museum of Visual Culture in Hong Kong, which EVVA had previously supplied with its cylinders. And on the same campus as the M+, the West Kowloon Cultural District Authority has set up its new Head Office in the aptly named WKCDA Tower. The WKCDA Tower is a 16-storey structure and home to several retail, dining and entertainment facilities. Flanking the M+ Museum, the WKCDA Tower fits right in with the District's other vibrant, cultural facilities.
The challenge
Much like the diverse environment in which the WKCDA Tower is located, the Head Office of the West Kowloon Cultural District Authority, had a range of diverse requirements for its access control and mechanical locking system. The doors in the Head Office required a blend of thumb turn cylinders and half cylinders in both Euro profile and Swiss profile. An additional demand was that the Head Office required an advanced mechanical locking system with reversible key, modular system and increased security against illegal openings, key-copying protection, and grand master keying possibilities.
The solution
EVVA was able to meet the demands placed by the Head Office of the West Kowloon Cultural District Authority with its advanced ICS system. In total, 140 ICS cylinders were supplied by Jardine Engineering Corporation – one of EVVA's local long-standing Hong Kong partners. EVVA's ICS keys and cylinders provide a clever system for optimum security, allowing for complex master key systems with large number of different user groups by utilizing its distinctive 5 track system with durable length profile.
With its successful construction, the West Kowloon Cultural District Authority can rely on the advanced and highly secure ICS mechanical locking system to protect its Head Office in the WKCDA Tower for many years to come.
If you, too, are looking for access control systems – both mechanical and electronic - where the manufacturer and local representative are willing to go the extra mile for you, please get in touch with the following person:
Raphael Rey Bacolod (Asia-Pacific): r.bacolod@evva.com | + 43 1 811 65-1414 
Convoy Financial Services Limited / Trust Tower
| | |
| --- | --- |
| Product: | Xesar |
| Size: | 1-100 units |
| Facility type: | Offices |
| Country: | Hong Kong SAR of China |
EVVA's Xesar system in the Trust Tower: a trust-worthy, one-stop, electronic access control system with minimized risk of CoVid-19 transmission for the offices of Convoy Financial Services Limited
EVVA's Xesar System in the Trust Tower: It's all about security and trust!
The client
Convoy Financial Services Limited is a member of the Convoy Financial Group, whose core business is financial advisory with operations in Hong Kong, Macau and mainland China. In 2020, Convoy set up a brand-new 20-storey headquarters in the Trust Tower on 68 Johnston Road, within the lively Wan Chai district of Hong Kong. The Trust Tower covers a total floor space of over 66,725 square feet and allows Convoy to follow their core principle of putting their customers' needs first by providing a one-stop service at a single location.
The challenge
Similarly, during the CoVid-19 pandemic, Convoy was looking for a one-stop, cost-efficient solution for their electronic access control system that would not require traditional wall-mounted components while also minimizing cross infection of the virus among its staff.
The solution
Equipped with 41 EVVA Xesar handles, Convoy benefitted from the Xesar system by enabling their administration to assign staff members with personal Xesar Cards to enter the washrooms without having to pass out washroom keys and, thus, reducing the possibility of cross infection significantly. A further benefit the client derived from the Xesar system was its flexible design, which enabled Convoy to integrate the Xesar handles into their existing door locks. To this day, the high quality design of Xesar remains an eye-catcher for Convoy's users, customers and guests while taking away any fears of virus transmission.
The local EVVA partner Mr. Simon Leung of Gebäude Lab was in charge of this project. Contact details: simon.leung@gebaudelab.com | T (+852) 9152 2777
Slovenian Central Bank
Product:
EPS
Facility type:
Offices
Country:
Slovenia
Banka Slovenije is the Republic of Slovenia's central bank with headquarters in Ljubljana.
The institution was established in 1991, employs a workforce of 350 employees and is also very popular amongst visitors. Consequently, a secure locking system was required for the financial institute to cover the different access requirements and provide a host of authorisation levels. EVVA EPS SY-MO was first choice thanks to its patented, multiple-overlap key profile and the ability to easily extend and modify the system at a later point thanks to its modular design. The locking system with a current total of 500 cylinders was planned and installed by the local EVVA Partner.
STAEM Algérie
| | |
| --- | --- |
| Product: | AirKey |
| Size: | 1-100 units |
| Facility type: | Offices |
| Country: | Algeria |
AirKey offers high security and flexibility to secure access in office building in Algier
STAEM, official and exclusive representative of PHILIP MORRIS, ALTADIS and IMPERIAL TOBACCO GROUP in Algeria, needed a flexible and secure access control system for their office headquarters in Algier. The EVVA project partner in Algeria, Easy Network, carried out the complete IT and security installation on the STAEM headquarters (IT Network, alarm, CCTV and access control). The AirKey electronic locking system was the perfect match for this project thanks to its high flexibility: the cloud-based management can be used from every location, and the system can be accessed and managed by the administrators all over the country. This means there is no need to worry anymore regarding lost keys or media, or in general unahuthorised accesses on the premises, as authorisations can be immediately revoked online on the AirKey system, and access to the event log on the installation is granted worldwide. Besides, the use of smartphones as identification medium instead of cards allows cost reduction and provides ease of use and an even higher security level.
SleevesUp! Coworking - Offices - Meetings
Product:
AirKey
Facility type:
Offices
Country:
Germany
SleevesUp!, a provider of coworking spaces, serviced offices and meeting rooms, relies on AirKey for access control.
SleevesUp! creates professional work spaces for independent workers. Nationwide sites offer a modern work space and full office infrastructure at fair prices. The network of spaces contain everything that is needed - be it in the coworking area, single offices, meeting rooms or event spaces.
They were looking for an equally smart and flexible, but also reliable solution for access control, which can be centrally managed, in order to satisfy the high level of flexibility, which is offered to the customers for their work space, and the geographic distribution. Granting access on smartphones and media at the same time, simple sending of keys via Send-a-keycontrolling everything via a standardised cloud interface the integration into dedicated software using API make AirKey your reliable partner!
With the AirKey online administration, the system can be accessed at any time via an Internet-capable end device, components and media can be added, authorisations can be created and changed or lockings can be executed. All without additional accessories! Simply smart.
Arbeiter-Samariter-Bund (ASB) Hamburg
| | |
| --- | --- |
| Product: | Xesar |
| Size: | 1-100 units |
| Facility type: | Offices |
| Country: | Germany |
The Arbeiter-Samariter-Bund (ASB) Hamburg has been equipped with Xesar 3.0 since 2019.
The Arbeiter-Samariter-Bund (ASB) is a democratic membership-based organisation with a history going back more than one hundred years. It is supported by more than one million members nationwide. The members of the ASB Hamburg are spread across six local groups, which are merged into the Arbeiter-Samariter-Bund Landesverband e.V., established in 1907.
The ASB headquarters in Hamburg had previously been equipped with a mechanical locking system. The demand to react quickly to lost keys and be able to hand out new keys just as quickly could no longer be met by this system. With the new electronic access control system Xesar, it is also possible to react flexibly to authorisation changes. To be prepared for the future, they decided on the latest version 3.0. The installation on the server and the associated data security were decisive here. Nearly 80 cylinders were installed with more to follow.
Neuroth Medical Division trusts AirKey
| | |
| --- | --- |
| Product: | AirKey |
| Size: | 1-100 units |
| Facility type: | Offices |
| Country: | Austria |
Neuroth has been actively promoting "better hearing, better living" as their message since 1907 throughout the world to boost its customers' quality of life. For the family–owned business, people and their hearing are at the core – just like innovation. For this reason, there was only one innovative access control solution for Neuroth Medical Division in 1050 Wien: AirKey by EVVA.
Better hearing for more than 105 years
Quality and service are an integral part of Neuroth's corporate philosophy. Each hearing aid and each earpiece is indivudally fitted and produced in a complex manufacturing process using modern 3D printing technology and manual finishing in our own technology and logistics centre in Styria. The reason? every ear is as unique as a fingerprint.
Neuroth Medical Division
For more than 60 years, Neuroth Medical Division has been working with ear, nose and throat specialists as well as audiological departments at teaching hospitals or regular hospitals, providing them with medical and audiological measuring and control devices as well as therapy and treatment units. In order to offer customers the option of trying out and comparing a diverse range of products, a new showroom was recently opened at the 1050 Vienna site. In addition to the basic equipment for an ENT specialist, the latest products are also regularly presented here and open house days with different topics and professional advice are organised.
Very clear locking system requirements
"We were seeking a locking system suitable to assign and log schedule-based as well as area-based access authorisations while maintaining the security levels and a good cost/benefit ratio", Albert Kesisyan, Certified Partner and KNOX customer advisor explains the requirements. The system must guarantee that certain authorised users or persons can exclusively gain access to important warehousing and office facilities at defined times. It is equally important that lost keys do not require costly cylinder replacements and subsequent assignments of new keys. "We opted against a new, mechanical master key system because we saw the signs of time", Kesisyan adds. Consequently, perfect requirements for EVVA's electronic access control system AirKey.
Customised access control system
Comprehensive support, as is customary at Neuroth, was also required from the installation company KNOX, which recommended AirKey and was thus able to obtain all system components from one manufacturer. AirKey cylinders and key tags with a chip were used to secure the external and internal doors. In regards to the different user groups for the company building, Neuroth Medical Group places great importance on flexible access configuration and the option to withdraw access quickly if keys are potentially lost. The simply designed online administration, which enables autonomous management, was also a decisive factor.
The customer is satisfied: "as a traditional, Austrian company, Neuroth has been familiar with EVVA for a long time and thus we quickly decided to opt for their services. KNOX experts explained the intended access control system in plenty of detail. The levels of advice were outstanding, honest and comprehensive. The access control system that was subsequently installed in our warehousing facilities operates smoothly and to our full satisfaction. The support from KNOX is also extraordinary – we have never regretted having opted for the EVVA AirKey system", med. Antonius C. Kierner explains as the managing director at Neuroth Medical Group.
Simple and secure – no need for additional infrastructure
Developed and manufactured in Austria, the electronic Airkey system offers a flexible access control solution. Thanks to AirKey the key is sent via Internet. All you need is a smartphone, Internet access and an AirKey cylinder, as they have here at Neuroth. The AirKey app and the unique EVVA KeyCredits turn this smart access control system into a user-friendly, complete solution.
There is no need for dedicated software thanks to the AirKey online administration. Simply drag and drop to grant access authorisations to smartphones or identification media. At the same time, access authorisations can be removed quickly and easily via the online administration. Access events, i.e. "who has been where?", are alsoavailable online at any time. Just as the battery status of the cylinders can be queried. The AirKey system is compatible with all conventional Internet browsers as well as operating systems and requires no dedicated software installation or special IT infrastructure.
Vienna running on Xesar - Vienna City Marathon
| | |
| --- | --- |
| Product: | Xesar |
| Size: | 1-100 units |
| Facility type: | Offices |
| Country: | Austria |
The headquarters of the Vienna City Marathon have been refurbished and now also include a new Xesar locking system.
With over 42,000 runners the Vienna City Marathon (VCM) is Austria's sporting event with the most participants. An emotional and thrilling, permanent feature in the sporting calendar and for the general public. One reason also being the excellent organisation of VCM. Mehmed Alajbegovic, head of production and also responsible for facility management at the VCM office in Vienna's 23rd district, is not only one of the driving forces, but also responsible for the installation and use of the Xesar electronic locking system. In collaboration with EVVA Certified Partner Wolf he opted for Xesar and consequently took responsibility of maintenance for the electronic locking system.
Versatile and simple
Mehmed Alajbegovic has always been interested in the sports industry. "I started handing out T-shirts", Alajbegovic laughs. He was then appointed to various positions higher up in the hierarchy and following his master's in 2010, he became VCM production manager. "However, this also means that I am not only responsible for coordinating suppliers and authorities, but also for the office building including locking system as well as for programming the access authorisations." Xesar, the versatile, electronic locking system, was installed two years ago and keeps running where it is literally all about endurance.
Each marathon is different
Alajbegovic has many happy memories of VCM and the hobby runner is most impressed of the many motivated volunteers each year that contribute to making VCM a top sporting event. "And it's these volunteers that are, if required, granted totally straight-forward access to relevant areas, such as our warehouse." In times where the organisation team is particularly busy, between January and April, the core team grows to up to 30 members. "This was also one of the reasons to opt for Xesar – in this system, we can programme any number of key tags to quickly grant or revoke access authorisations. The tags currently in circulation are also easy to replace. "Employees value this greatly – they must no longer have such a guilty conscience as the security level remains identical, even if key tags are lost."
Service as the secret to success
The assisting EVVA electronic locking systems partner Wolf is top class in terms of service. "I have added him to my Whatsapp contacts. As a result, I quickly get an answer to my questions", Alajbegovic explains. Christian Wolf, managing director at the metalworking company, explains: "this service is just included in my eyes. "I know from experience that especially with electronic systems customers initially need time to adapt. For this reason, we make sure the transfer works perfectly. However, I am always available afterwards." Wolf adds "thanks to Xesar we were able to ideally meet the demands of the VCM organisation team. In addition to great design the locking system is most of all easy to handle, making it the perfect solution for customers." The short delivery periods and the outstanding service rounded off the project.
Creative factory
| | |
| --- | --- |
| Product: | ICS |
| Size: | 101-500 units |
| Facility type: | Offices |
| Country: | Netherlands |
A venerable factory in Hengelo has been converted into a modern event location – including foyer, conference facilities and restaurants.
The facility's industrial chic has been preserved as much as possible to give the site an atmosphere of bygone eras paired with the convenience of cutting-edge building standards. An EVVA locking system guarantees security. 200 ICS system cylinders were installed in the facility, characterised as particularly secure and cost-effective thanks to their internal encoding. The reversible keys are also a detail that make everyday processes that little more convenient. The EVVA Partner Knoef Hengelo was responsible for implementing the local security concept.
Zeiss main administration
| | |
| --- | --- |
| Product: | 4KS |
| Size: | > 500 units |
| Facility type: | Offices |
| Country: | Germany |
Carl Zeiss is a well-known brand of highly accurate, optical industrial tools.
The responsible managers at the company's headquarters planned to manage several sites with one locking system. Ideal for EVVA's 3KSplus – the system that was chosen thanks to its high degrees of key copying protection, reliable functionality and flexible extension options. As required, the system is regularly modified and extended by local EVVA Partners — which is and will never be a problem thanks to EVVA's integrated planning security as part of the 3KSplus locking system.
This object was realised with the locking system 3KSplus, which corresponds to today's 4KS locking system.
Konstruktorska Business Center
| | |
| --- | --- |
| Product: | EPS |
| Size: | 101-500 units |
| Facility type: | Offices |
| Country: | Poland |
The Konstruktorska Business Center in Warsaw is a class A office building with an area of around 47,500 m². Investors KBC demanded a cost-effective, reliable product. A locking system featuring the EVVA EPS system with 456 lock cylinders perfectly met all expectations to the competitive price and the high levels of security standards. On-going support by EVVA employees guarantees access controls are always up-to-date when the system is enhanced.
Park Tower
| | |
| --- | --- |
| Product: | ICS |
| Size: | 101-500 units |
| Facility type: | Offices |
| Country: | Switzerland |
Park Tower in Zug with a height of 81 metres is currently the city's tallest building.
Residential units, offices and an underground car park cover the development's total area of around 14,000 m². The building's exclusive location and its extremely high-grade equipment are just as much part of the building owners' promise as maximum degrees of security and protection of users' privacy. EVVA ICS came out top and was selected as the ideal locking system that meets the particularly ambitious access control requirements within this residential and business development. EVVA ICS with patent protection until 2028 is amongst the most secure of its category and the system offers users maximum operating convenience and even something pleasing to the eye: design keys.
Primetower
| | |
| --- | --- |
| Product: | ICS |
| Size: | > 500 units |
| Facility type: | Offices |
| Country: | Switzerland |
Primetower is probably the best-known building in Switzerland. It was completed in 2011 and still remains the country's highest residential development.
The building is home to renowned businesses, such as Switzerland's largest corporate law firm as well as a restaurant featuring a lounge on the top floor. During the locking system tender providers not only had to cover a wide range of ambitious requirements, but they also had to score high marks in one of the core areas, security. EVVA came out top thanks to the ICS locking system. A grand total of 2,586 cylinders were installed. Crucial features that contributed towards the decision to opt for ICS were elements including the three combined security scans for keys within the system thanks to locking sliders, length profile and internal encoding. This is a unique combination that now lends Primetower the desired levels of security in conjunction with the convenience of the handy and smoothly operating keys.
Radom Office Park
| | |
| --- | --- |
| Product: | EPS |
| Size: | 101-500 units |
| Facility type: | Offices |
| Country: | Poland |
Radom Office Park consists of two modern, class A office buildings with a total usable area of more than 10,000 m².
The investment project by AIG Lincoln required particularly short delivery periods and EVVA was able to supply with ease. 117 lock cylinders for an EVVA EPS locking system were equipped with different locking combinations to suit eleven different user groups. Investors were impressed not only by the short implementation periods of the security concept, but also the durability of the system as well as the excellent price/performance ratio.
Rheinwerke
| | |
| --- | --- |
| Product: | 4KS |
| Size: | > 500 units |
| Facility type: | Offices |
| Country: | Germany |
Rheinwerke was developed on the premises of a former cement factory on the River Rhine along the city of Bonn.
The Rheinwerke office complex consists of functional units with ample free space and cutting-edge building technology which is rounded off by a restaurant and hotel. Each of the facilities has very specific requirements to building security as well as access control management. EVVA meets them all thanks to 3KS, a locking system characterised by its unique and patented, springless functionality as well as the ability to perfectly implement complex authorisation structures across several buildings.
This object was realised with the locking system 3KSplus, which corresponds to today's 4KS locking system.
Dancing towers
| | |
| --- | --- |
| Product: | EPS |
| Size: | > 500 units |
| Facility type: | Offices |
| Country: | Germany |
Dancing towers – Hamburg now boasts a new, trendy office complex that could maybe even be referred to as the trendiest around.
The office building with restaurants was developed on the premises of a former bowling alley and it is characterised by its particular architecture and appeal. The dancing towers are also known as the tango towers and they represent two high-rise buildings that are home to countless offices, restaurants, a radio station and a music club. The complex user structures and high levels of security demands required a suitable, mechanical locking system with a convincing price/performance ratio. EVVA came out top. The new locking system in the dancing towers is based on the EPS locking system with six locking sliders and side coding. The high degrees of key copying protection and resistance to wear satisfied customer demands just as much as the short delivery periods in association with our local EVVA Partner.

Master key systems
EVVA is also a genuine master key system professional able to tackle any levels of complexity in terms of organisational structures and to implement them within the corresponding master key system.
Find out more about our master key systems