Photovoltaics
Generate your own energy
Defined as a key topic for EVVA
GRI 302: Energy; 305: Emissions
UN Sustainable Development Goals (SDGs), No 7: Affordable and clean energy; No. 12 Sustainable consumption and production
Investments in clean energy rank among the most sustainable in the world. EVVA has set up its own photovoltaic (PV) systems at several locations in order to generate at least a part of its energy requirements.

Photovoltaics EVVA Vienna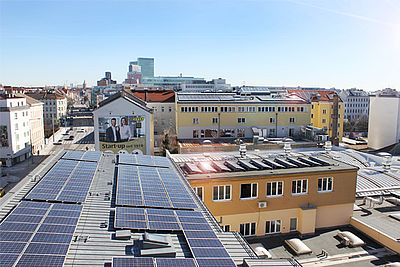 The meanwhile 705 solar panels on the roofs of the headquarters have been supplying EVVA's main production facility with environmentally friendly energy since 2013. In 2013 we started with 340 panels, and another 25 panels were added in the reporting period. The system is one of the largest commercial photovoltaic areas in Austria. It currently generates 285,000 kWh per year, as much about 60 single-family home can generate with their photovoltaic systems.
EVVA photovoltaics is a pioneer in the district, and many local companies have followed suit and also installed their own systems. Our PV system generated over 1 gigawatt hour (= 1,000,000 kWh) between 2015 and 2019. We originally expected 15% less, i.e. the plant is more efficient than expected.

Extension
The expansion of the headquarters in Wittmayergasse in Vienna was completed by 2021. A photovoltaic system has now also been installed on this new building over the maximum possible roof area. These new panels have 50% more power than the older ones thanks to the fact that PV technology has advanced a lot. Our own total energy generation has increased by approx. 35,000 kWh to 285,000 kWh per year. In summer, the new extension's PV system will provide all the hot water needed in the new building. The cost of the existing PV system will be amortised by 2025, the cost of the new PV system on the extension by 2030.
Our photovoltaics in Vienna cover around 5% of EVVA Vienna's electricity requirements. This allows us to maintain the base load in the event of a total power failure. The assembly of the access solutions can also be continued manually for a period of time

Our PV system saves approx. 20–25,000 euros per year in energy costs and the environment 65 tonnes of CO² emissions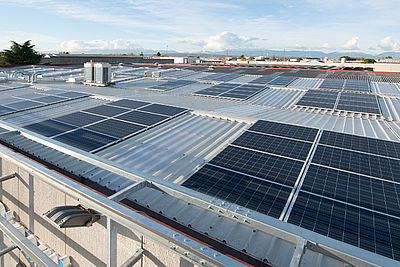 Photovoltaics EVVA Italy
Our branch in Villorba, Italy, was modernised in 2013, and since then a PV system has been performing its valuable service on the rooftops. It delivers 38,000 kWh per year.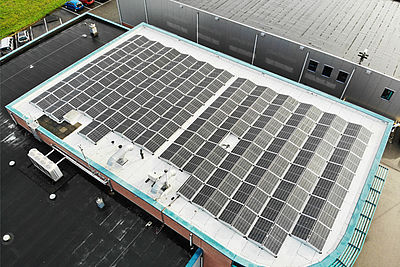 Photovoltaics EVVA Netherlands
The PV system at the EVVA site in Hengelo has been in operation since December 2019. The 180 panels provide a total output of around 57,000 kWh (60.3 kWp) per year and thus cover around half of the branch's energy requirements.
"At the end of 2019, we restructured our EVVA Netherlands building and also invested in photovoltaics. The system produces around 50% of our energy requirements and has already saved 42,166 kg of CO² emissions," explains Rick Baayens, Sales Manager at EVVA Netherlands.
Tišnov site
A photovoltaic system for the new EVVA building in Tišnov in the Czech Republic is currently being analysed and planned.