MCS. 100% key copying protection
Security featuring technical excellence
Thanks to the worldwide unique MCS security, MCS master key system operators need not worry about any issues. This is firstly down to keys' 100% copying protection and secondly, a result of the system's vast calculation security levels. Reserves can already be integrated when planning the master key system. Consequently, your facility can continue to grow and MCS grows with it.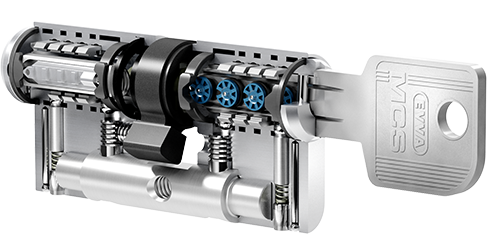 MCS cylinder
The MCS cylinder contains eight freely rotating magnet rotors to the left and right of the key channel and each one is assigned to one of the four magnet pills on MCS keys. The magnet rotors are brought into a locking position using keys with access authorisations. Mechanical components arranged above grant permission to unlock components.
International certifications
International MCS certifications and country-specific models mean products are suitable for use throughout Europe: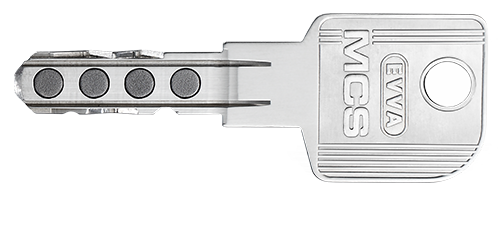 The MCS key
The MCS key combines no less than two technologies for triple security: One magnetic and two mechanical encoding features. The eight-stage magnetic key scanning takes place via the four magnet pills, permanently magnetised in different magnetic alignments on either sides. Mechanical encoding also achieves unparalleled security with its precise length profile as well as additional, mechanical encoding features.
The MCS design key
MCS keys are optionally available in the colours black, red, blue, white, yellow and green. The colour coding helps to differentiate between keys.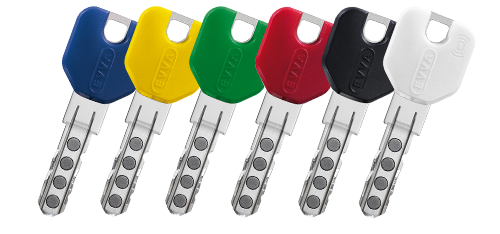 Hybrid cylinder
Electronic systems combined with mechanical systems
Mechanical and electronic systems combined in a single cylinder
Suitable for combination with all current, modular, mechanical systems
Quick and simple conversion of mechanical systems
Electronic, individual profile with combi key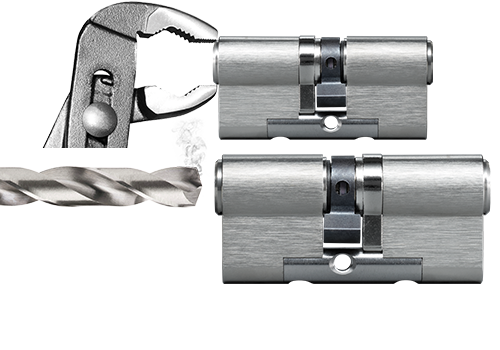 Picking and scanning protection
The freely rotating magnetic motors of MCS cylinder is separate from the key channel and can therefore not be scanned or manipulated. This means that the magnetic coding in the MCS cylinder cannot be scanned.
Drilling protection
The hard metal elements in the MCS cylinder plug offer effective protection against drilling.
Protection against pulling and snapping
The hard metal elements and their modular design (SY-MO) provide a high level of protection from plug pulling and snapping attempts.
Security card
Key copies, additional cylinders and lock charts are available from authorised EVVA Partners, providing the relevant proof of legitimacy only, i.e. the EVVA security card.
Patent protection until 2035 at the latest
All EVVA products are available at authorised EVVA Partners only. EVVA is authorised to take legal steps against any kind of patent infringements. Patent protection until 2035 at the latest.
Technical protection thanks to the required specialist expertise
The technical features of an MCS key require extensive specialist knowledge and specialist machinery during production. This makes it extremely difficult to illegally copy keys.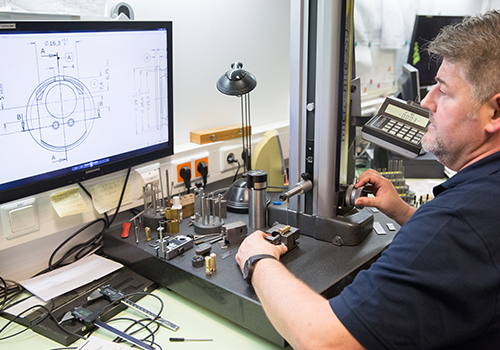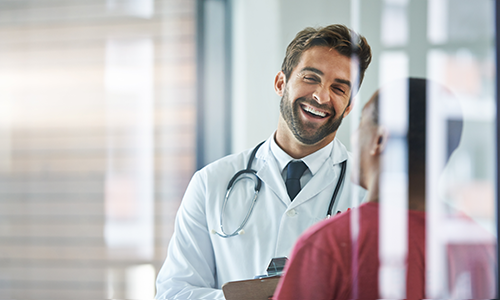 Whenever security is not secure enough
Luxury retailers, research facilities, hospitals, international airports – anywhere in need of protecting sensitive data and seeking to implement challenging locking hierarchies can fully rely on MCS. The MCS key guarantees the highest level of key copying protection. The MCS cylinder offers multiple protection levels against illegal opening methods.
Reference
Vienna International Airport
https://www.youtube-nocookie.com/embed/xmsS7IspM7M?rel=0&enablejsapi=1&showinfo=0&origin=https%3A%2F%2Fwww.evva.com
MCS References
Here is a selection of successful projects.

Master key systems
EVVA is also a genuine master key system professional able to tackle any levels of complexity in terms of organisational structures and to implement them within the corresponding master key system.
Find out more about our master key systems