Reduce waste
Measures to combat waste
Waste as a raw material
EVVA sees waste as a raw material that must be used as sparingly as possible. As of 2019:
EVVA finished products are made from 69.3% used materials,
26.0% is recyclable waste (swarf, solid waste, etc.), which EVVA also reuses 100%! That is why we refer to "recyclables', not to "waste',
3.3% is non-hazardous waste such as plastics or wood
and 1.4% is hazardous waste such as oil, electronic waste, galvanic waste or batteries.
The input/output analyses under Recycling & Resources Overview contains comprehensive data on waste

Potential and measures for less waste:
Despite the measures, our waste volume has only decreased slightly in recent years: From 0.55 kg per kg of product in 2015 to 0.54 kg in 2019. The reason for this is that EVVA is producing more and has increased output by 14.5% since 2015. However, the following measures could and can keep the amount of waste at a constant level despite a simultaneous increase in output:

Paper
By increasingly shifting to digital processes (e.g. for construction drawings, order documents, etc.), EVVA has been able to save around 9 tonnes of paper in the reporting period since 2015. However, the paper waste at the headquarters is still around 6 tonnes per year. EVVA would therefore like to further reduce its current paper requirements – see targets below. Paper consumption will certainly be reduced in the next few years due to the gradual transformation to paperless production. From order entry to production to goods delivery, many processes are to be digitised. More on this under Digitalisation.

Banish plastic/paper cups: In 2019, all plastic cups from the 8 coffee machines at the headquarters were banned and initially replaced with paper cups. Here, too, EVVA once again pressed ahead. In 2019/2020, employees were asked on the intranet and via stickers affixed directly to the vending machines to always use their own coffee cups instead of paper cups. To promote this action, all employees received an EVVA-branded cup as a gift, which they could then personalise. The campaign was a great success. With around 15,000 portions of coffee consumed every month, the savings are impressive:

Savings on plastic and paper cups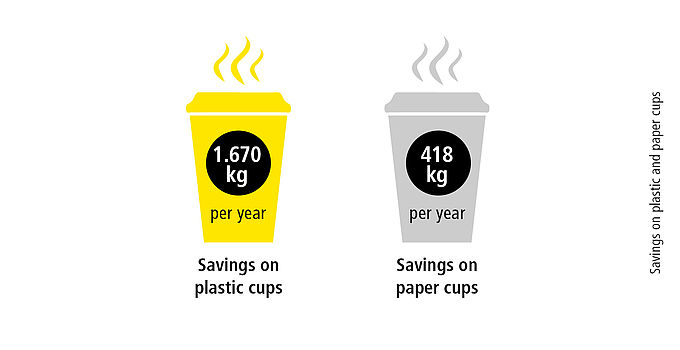 Bulk waste/residual waste
The proportion of bulky waste at the headquarters has doubled to 6 tonnes since 2013. The reason for this is that a lot of old machines and furniture were disposed of in the last two years. The proportion of residual waste has remained unchanged at 30 tonnes per year since 2010.

Key blanks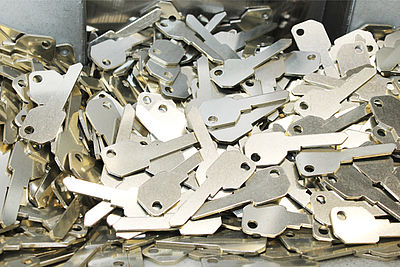 In 2013, an input of 185,388 kg of key blanks was balanced by an output of 145,132 kg of finished keys. EVVA was able to significantly improve this ratio and thus avoid a lot of scrap and waste. In 2019, EVVA purchased 160,620 kg of key blanks and was able to increase output to 160,585 kg of finished keys. In other words, an input-output ratio of practically 1:1 with minimal waste. We have achieved this through more efficient and accurate production processes as well as lean management tools (value stream mapping, Kanban, etc.) that target waste.


Rejects during key punching
Hazardous waste
such as oil or electronic waste. These materials are required for electroplating and for production. They are disposed of professionally by specialist companies in accordance with legal requirements. No leakage of harmful substances has occurred. Electronic waste has increased from 1 tonne in 2013 to 5.8 tonnes in 2019. This is related to the replacement and disposal of old lighting fixtures, (see LED changeover). However, this is also due to the increased demand and production of electronic and mechatronic security systems. The battery requirement has therefore increased from 42 kg in 2010 to 271 kg in 2019. The further changeover to oil-free Clean Production machines will continuously reduce EVVA's oil requirements.

Plastics
Our plastic output (e.g. for thumbturn covers for electronic access systems) has increased due to the greater demand for electronic products – from 174 kg in 2010 to over 1,523 kg in 2013 to 2,477 kg in 2019.

New electroplating processes
From 2020, EVVA has partially converted electroplating processes (for the surface treatment of our mechanical safety products) at the headquarters from powder to liquid. This simplifies the automated feeding of substances and thus an efficient and quantity-reduced supply.

Lifetime
Products and components such as batteries with a longer useful life also generate less waste and sets an example against the throwaway society. For more information, see Quality and Permanent Innovation.

Recycling
To learn more about our recycling approach, see Recycling Materials and Recycling Water/Waste water.
Fulfilment date: 2024

How: EVVA will be pushing ahead with paperless production and digital order processing in the coming years.
An example from internal order processing: In the course of 2021, only one delivery note form per order will be necessary instead of the previous 3 delivery note copies. The data flow for shipping is provided digitally, thus saving around 100,000 sheets of paper per year
Another example from order processing involving partners/customers: The new digital EVVA ordering platform for trade partners will further reduce the need for paper
Positive effects: The current paper requirement at EVVA headquarters is 43 tonnes per year. The planned reduction to 30 tonnes results in a saving of around 30% per year.
Fulfilment date: 2022

How: EVVA has been transforming electroplating processes in production since 2020. This will allow a more efficient introduction of substances.

Positive effects: The chemical consumption should thus decrease from 7,784 kg in 2019 to 6,600 kg in 2022. This would mean approximately 15% reduction in the amount of waste to be disposed of.