Energy & Emissions overview
Facts and initiatives at a glance
Defined as a key topic for EVVA
GRI 302: Energy; 305: Emissions
UN Sustainable Development Goals (SDGs), No 7: Affordable and clean energy; No. 12 Sustainable consumption and production
Management approach – our why:
High energy demand – high materiality
It is no surprise that EVVA has achieved high relevance and impact values in the materiality analysis with regard to "energy". As an industrial company that supplies countless high-quality access systems all over the world, EVVA has a corresponding energy requirement. We need most electricity for our manufacturing processes, e.g. for machines/manufacturing 50%, compressed air/compressors 22%, cooling 8% and workplaces/PCs 7%. Gas is required for heating. Saving energy and extracting it from renewable sources has therefore been identified as a key sustainability topic in stakeholder dialogue.

100% green electricity
Until recently, only around 55% of the electricity we bought came from renewable sources. On January 1st, 2022, the EVVA headquarters set a milestone in sustainable energy procurement: EVVA changed its tariff and switched completely to green electricity. It comes primarily from hydropower – and via our solar panels on the roofs also from our own photovoltaic system. More on this subsequent under "Emissions".
Energy requirement (electricity/gas)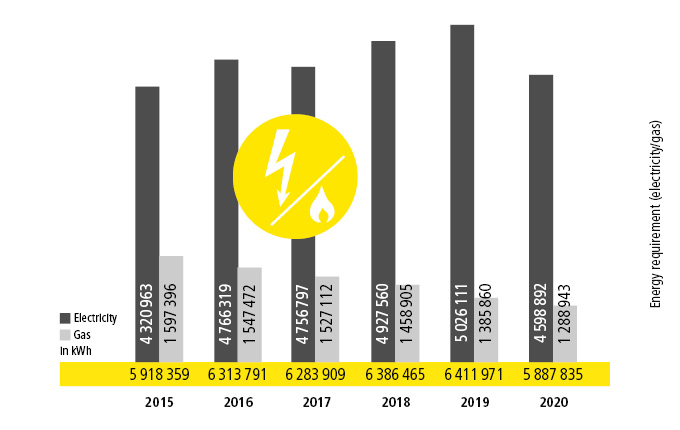 Total energy requirements (electricity, gas) of the EVVA headquarters incl. main production facility, from 2015 to 2020. Before 2022, 55% of our purchased electricity came from renewable sources, 100% as of 1.1.2022 (purchased electricity from hydropower, EVVA's own electricity generation from photovoltaics).
In 2020, our energy requirements fell by around 8% compared to the previous year. The main reason for this are the effects of the corona pandemic, which were particularly significant in 2020. Months of short-time working across all industry sectors as well as order postponements resulted in an approx. 10% lower production output compared to 2019. That means, in 2020 our energy efficiency has decreased, because even if the production output decreases during lockdowns, an electricity base load has to be kept up to for the machines. EVVA was able to cope well with the pandemic challenges overall, however, the decline of merely 10% in 2020 is a very good value within the industry sector.
Energy intensity per kg of product or per m²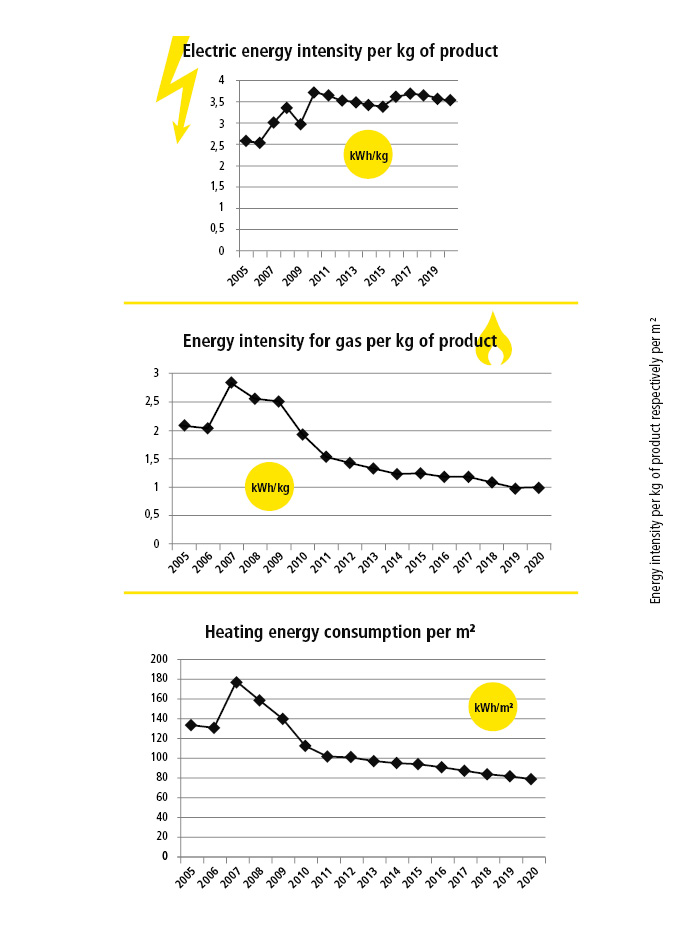 Energy intensity for electricity and gas from 2015 to 2020, related to consumption within headquarters with main production site. Another key figure: In 2015, the total energy consumption (electricity, gas) per employee was 12,838 kWh, in 2019 13.220 kWh. In 2020, the value fell to 12,940 kWh due to the pandemic. According to an external energy audit, EVVA is in the midfield compared to other metalworking companies.
Emissions
In 2021, EVVA analyzed its headquarters' emissions according to scope 1, scope 2 and – for the first time – also according to scope 3. The check was carried out by the external sustainability agency denkstatt. Our emissions concern almost exclusively CO². Fluorine gases (contained in refrigerants for air conditioning systems) are also taken into account under scope 1 under "Refrigerants". The total emissions (including scope 3) amount to 22,955 tons per year.
What does scope 1 to 3 mean?
This is understood to mean the direct, indirect and extended emissions of a company. Scope 1 and 2 can usually be controlled by a company itself, for scope 3 this is far more challenging.
Scope 1: Direct emissions of the company. At EVVA it will be 458 tonnes in 2020. Included is here natural gas for heating (277 t), refrigerant for cooling (10 t) as well as diesel (165 t) and petrol (6 t) for the vehicle fleet

Scope 2: Indirect emissions. The electricity demand purchased by EVVA for production, offices, etc. belongs into this category with 1,044 tons in 2020

Scope 3: Extended emissions. Scope 3 includes all emissions that a) arise in the upstream value chain (upstream, i.e. towards the company) and b) arise in the downstream value chain (downstream, i.e. away from the company). This scope includes the largest share of emissions across all industries, also at EVVA with 93% (21,493 tonnes, see graphic for a detailed list). Scope 3 examples:
Upstream:
Purchased materials – especially brass, our most important production material. At EVVA, this is by far the largest scope 3 factor
Energy consumption that the manufacturer / supplier needs to make materials / goods / services available (brass manufacturer, cloud service provider, etc.)
Investments in infrastructure such as machines etc.
Transport of materials / goods from the suppliers to EVVA
Waste produced (during production, disposal, packaging ...)
Business trips (flight kilometers ...)
Employees´ travel to work
Downstream:
Transport of EVVA products to business partners / customers
Emissions caused by the use of products. At EVVA, however, this factor is not significant (see the following graphic: CO² analysis) because our mechanical locking systems do not need any energy at the customer's premises and our electronic locking systems are responsible for only extremely low emissions. This might change in the next years due to the increased demand for electronic security solutions; that´s why EVVA is continuously searching for improvements in low-power design (more on this under Innovation)
Circulation and life cycle of products or components; product return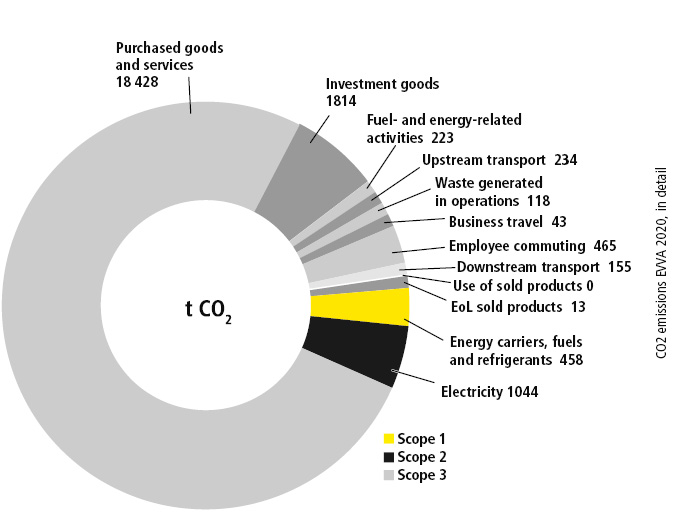 The energy requirements of the EVVA headquarters converted into CO² tonnes. Source for calculations: CO² quick check 2021 from external sustainability consultancy denkstatt. Database emission factors: Austrian Federal Environment Agency 2020 and Ecoinvent database V3.7.1. Transport distances and commuter routes are estimated.
CO²-saving measures
In order to achieve the Green Deal and climate neutrality in the EU by 2050 (or in Austria by 2040), extensive saving measures must be implemented in the coming years. Since scope 1 and 2 are mostly controlled by a company directely, it should be started here first. At the same time, however, it also applies to take scope 3 into account more and more and to achieve a steering effect – for example with regular information within the supply chain, new or improved processes in production and product use or a focus on regionality. The fact that scope 3 must not be ignored is emphasized by its largest share of emissions in almost all companies. The information and implementation pressure in the overall economic supply chain, i.e. from and on each individual company, will increase in the next few years. This will entail significant investments and challenges; in return, innovative, eco-friendlier and more efficient technologies can be expected to amortize through better competitiveness and health.
Status quo and current goals:
Regarding scope 1: The target defined in the previous reporting period to reduce our total energy requirement by 10% by 2024 by energy-saving measures will be further pursued (details on this in the target below). Our measures that affect scope 1 – such as the integration of air compressors in the heating return, the more efficient heating control or the concrete core activation – have a direct influence on this. Of course, the energy savings in 2020 caused by the pandemic are not included

Regarding scope 2: As of January 1, 2022, EVVA will obtain 100% of its electricity from external energy suppliers from renewable sources, primarily from hydropower. In addition, there is our energy generation from solar power via the in-house photovoltaic system. EVVA will nonetheless continue to push measures to use energy more efficiently. Examples of this are our goals in central building control technology, elimination of leaks or the expansion of our virtual servers (more on this below under "Further measures")

Regarding scope 3: Over the next few years, EVVA will analyze scope 3 saving opportunities across its own supply and value chain and formulate targets based on this analysis

Efficiency in production
According to our Environmental Report 2020 and Energy Audit 2019 (external auditors: denkstatt enertec), electricity consumption at EVVA headquarters with our main production facility in Vienna increased until 2019 (from 4.3 gigawatt hours GWh in 2015 to 5 GWh in 2019), but less than the increase in EVVA production of 4 to 5% annually. Production has therefore become more efficient overall by 2019: EVVA produced more, but required relatively less electricity and gas. The numerous energy-saving measures listed below in the company have had a very positive effect. Reason for higher power requirement: More electronic and also more complex mechanical access systems are in demand, which offer greater security, but include a wider part diversity. The more complex production processes and machines require more energy, but also replace numerous older production facilities. A new digital machine can replace up to five conventional machines. As mentioned, in 2020 the pandemic reduced production output and thus electricity consumption, but we expect a corresponding increase in energy efficiency after the pandemic.

Heating gas consumption could be reduced from 1.6 GWh in 2015 to 1.4 GWh in 2019, partly due to greater recovery of waste heat in production. Also here the lower 2020 values ​​due to the pandemic are not an indication of better efficiency
Significant energy-saving measures –
positive effects and targets for 2024:
EVVA sets itself ambitious goals to compensate for the additional demand, increase energy efficiency and reduce emissions. With the following measures in particular, EVVA is able to counteract its increased energy demand. The kilowatt hours saved in this way currently account for about 10% of the annual electricity demand.

Further measures:
Digitisation strategy for new machines: Installation of central software in the next two years that optimizes communication between the production machines and thus makes production more energy-efficient (electricity, cooling, air pressure). The first estimates show savings of 150,000 kWh.

Virtual servers. EVVA already uses virtual servers for many hardware systems, resulting in lower energy consumption. Around 480 virtual servers are currently in use at the headquarters, which are operated by 8 physical servers. As a result, each EVVA service can be handled via its own server, which greatly reduces dependencies (e.g. during reboots). Saving energy by: EVVA only needs around 70,000 kWh per year for the 8 servers – unlike the many physical servers from earlier days with a total of around 450,000 kWh per year.

More video conferences, digital meetings and teleworking
EVVA had already put more emphasis on digital communication and training before the Covid-19 crisis in order to reduce travel expenses. During the pandemic from the beginning of 2020, usage increased particularly and business trips declined accordingly. As EVVA would like to resume its export activities in the event of a normalisation of the health situation, business trips – especially to new markets – will continue to be necessary and important. However, we expect that especially shorter journeys and business trips will increasingly be replaced by video conferences.

Company vehicles with electric drive
The energy consumption of the EVVA fleet at the headquarters has been reduced by approx. 300 MWh (300,000 kWh) in the last years, which is roughly the energy consumed by 15 private households per year. This reduction is attributable, among other factors, to the merging of journeys as well as the optimisation of routes, e.g. of field staff. In 2018, two electric vehicles were purchased at EVVA Vienna to gain experience with electrically driven vehicles. After the test phase, the purchase of several e-company cars will be evaluated.

EVVA Netherlands is the Group's pioneer in e-fleet vehicles. 4 electric cars have been in use for years and employees are very satisfied with them. New acquisitions are currently not planned, as longer-term leasing contracts are still in place for the other vehicles with conventional fuels


50% travel allowance from EVVA for employees at the headquarters. These grants are for public transport only, not for cars. They thus have a steering influence and reduce the environmental pollution caused by private transport.

Clean Production. EVVA's much lower oil requirement also means fewer oil transports from refineries to EVVA – and the oil does not have to be disposed of in a time-consuming manner. More information under Clean Production

Focus on regional suppliers. The closer the sources are, the shorter the transport routes. More details under Proportion of regional suppliers

The server rooms at the headquarters have been cooled for many years using natural cooling. This means that when the outside temperature is approx. 10 degrees below the desired inside temperature, cooling is no longer carried out via compressors, but via the outside air


Fulfilment date: 2024
How: The target pertains to the EVVA headquarters with the main production site (75% of the production value added in the EVVA Group) and to all energy-saving measures described in this report. EVVA will invest around 23 million euros in sustainable and digital production systems, photovoltaic systems and energy-efficient building technology by 2024.
Positive effects: The total energy requirement for electricity and gas for the EVVA headquarters was around 6.5 gigawatt hours when the target was formulated in 2019. This means that with a 10% reduction in consumption, EVVA would save 650,000 kWh of energy and have reduced its annual demand to between 5.8 and 5.9 gigawatt hours by 2024 at the latest. That would be the equivalent of a reduction of around 200 tonnes of CO² per year in manufacturing processes. Concrete target figures are for us the electrical energy consumed per kg of product (base value 2019: 3.54 kWh per kg) and the heating gas energy per kg of product (base value 2019: 0.992 kWh per kg). In 2024, they are expected to decrease by 10% to achieve this goal.
You will find further measures and targets for energy & emissions under these topics: