Energy & Emissions overview
Facts and initiatives at a glance
Defined as a key topic for EVVA
GRI 302: Energy; 305: Emissions
UN Sustainable Development Goals (SDGs), No 7: Affordable and clean energy; No. 12 Sustainable consumption and production




Management approach – our why:
High energy demand – high materiality
It is not surprising that EVVA achieved high impact values for the topic "energy" in the materiality analysis. As an industrial company that supplies numerous high-quality access systems worldwide, EVVA has a corresponding energy requirement. It is essential for EVVA to save energy through various measures, partially generate it from renewable sources, and improve energy efficiency within the company. The topic has:
Emissions have been newly defined as "material"
Due to these needs, EVVA has also defined "climate neutrality/emissions" as a key issue in the reporting period. In the last materiality analysis with stakeholders, it was not classified accordingly. This is no longer timely, because through the Green Deal and the target of climate neutrality in the EU by 2050 (and Austria by 2040), every company must consider in depth what it contributes and how it reduces its emissions. Therefore, we believe that the topic can only be defined as material. You can find all information about our CO2 footprint and our emission targets under Climate neutrality.
EVVA's measures for "energy & emissions" flow into a clear short-, medium-, and long-term goals (which you can read more about at the end of this page) as well as two guiding principles of our environmental policy: "use resources sparingly" and "avoid emissions and waste as far as possible". EVVA continuously informs stakeholders about the company's sustainability goals and milestones (e.g., through newsletters, employee and partner magazines, events, etc.).
100% green electricity
By the end of 2021, approximately 55% of our purchased electricity came from renewable sources. On January 1, 2022, the EVVA headquarters set a milestone in sustainable energy procurement: EVVA changed tariffs and switched to 100% green electricity. It primarily comes from hydropower and also from our own photovoltaic system via our solar panels on the roofs.
Our energy needs (Electricity/gas)
We need most of the electricity for our production processes: for machines/ production 50%, compressed air/compressors 22%, cooling/heating 10%, and workstations/PCs 5%, the rest is lighting and building technology. Gas is used for heating.
The recorded data is published in EVVA's environmental reports and in the energy audit. They are externally reviewed and confirmed by authorities (e.g., Environmental Magistrate, Waste Magistrate, Trade Authority, Representatives of the Chamber of Workers and Economy) and sustainability consultants.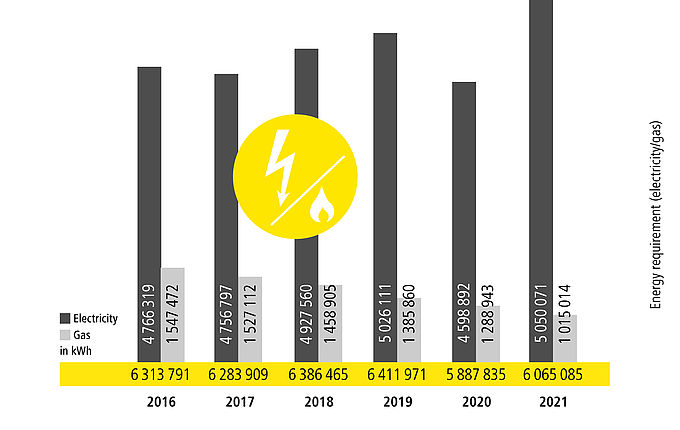 Total energy demand (electricity, gas) of the EVVA headquarters incl. main production site, 2015 to 2021. Before 2022, 55% of our purchased electricity came from renewable sources, from January 1, 2022, 100% (purchased electricity from hydropower). The electricity generation from our own photovoltaic system, which covers 4.3% of the demand, is not included in the table.

Energy intensity per kg of product or per m²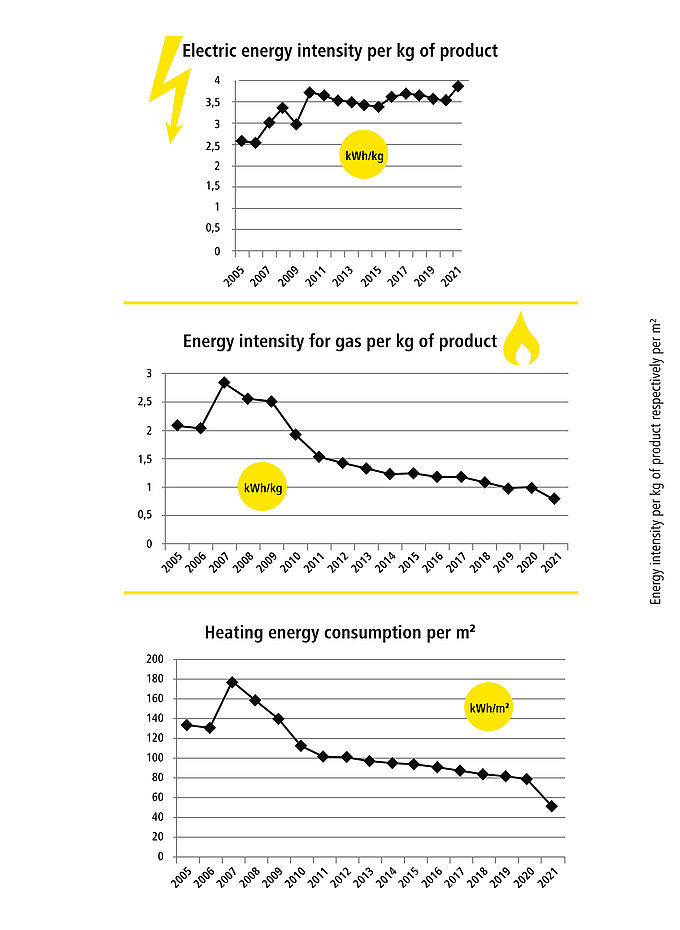 Energy intensity for electricity and gas from 2015 to 2021, based on consumption within the headquarters with main production site. Another key indicator: In 2015, the total energy consumption (electricity, gas) per employee was 12,838 kWh, in 2019 it was 13,2000 kWh. In 2020, the value decreased to 12,940 kWh due to the pandemic. In 2021, the value increased to 13,156 kWh due to the reasons mentioned below. EVVA is – according to an external energy audit – in the good mid-range compared to other metal processing companies.

Our gas demand has decreased by 22% compared to the previous year and electricity demand has increased by 9.8%. The reasons for this are:
Efficiency in production
Although the energy consumption of the EVVA headquarters has increased by 3%, it is lower than the EVVA production increase of 4%. Therefore, production has become more efficient overall in 2021: EVVA produced more but required relatively less energy to do so (the 1% equivalent to approximately 60,000 kWh, as much as 17 private households consume in electricity. Assumption: 3,500 kWh per household and year). The numerous energy-saving measures in the company and the already achieved milestones of the set goals are already having a positive effect.
Significant energy-saving measures –
positive impacts and short- to long-term goals:
EVVA sets ambitious goals to compensate for the increased demand, to increase energy efficiency, and to reduce emissions. In particular, with the following measures, EVVA is able to counteract the increased energy demand. The saved kilowatt hours make up about 20% of the annual electricity demand.
Additional measures:
Fulfilment date: 2024
How: The target pertains to the EVVA headquarters with the main production site (75% of the production value added in the EVVA Group) and to all energy-saving measures described in this report. EVVA will invest around 23 million euros in sustainable and digital production systems, photovoltaic systems and energy-efficient building technology by 2024.
Positive effects: The total energy requirement for electricity and gas for the EVVA headquarters was around 6.5 gigawatt hours when the target was formulated in 2019. This means that with a 10% reduction in consumption, EVVA would save 650,000 kWh of energy and have reduced its annual demand to between 5.8 and 5.9 gigawatt hours by 2024 at the latest. That would be the equivalent of a reduction of around 200 tonnes of CO² per year in manufacturing processes. Concrete target figures are for us the electrical energy consumed per kg of product (base value 2019: 3.54 kWh per kg) and the heating gas energy per kg of product (base value 2019: 0.992 kWh per kg). In 2024, they are expected to decrease by 10% to achieve this goal.
You will find further measures and targets for energy & emissions under these topics: