Our sustainable strategy
at a glance
Sustainability: a question of culture
Sustainable action is firmly rooted in our EVVA culture. Numerous examples can be found in our values and in the Code of Conduct for all employees. Our Code of Conduct contains clear rules for law-abiding business practices, fair competition and appreciative, respectful interaction.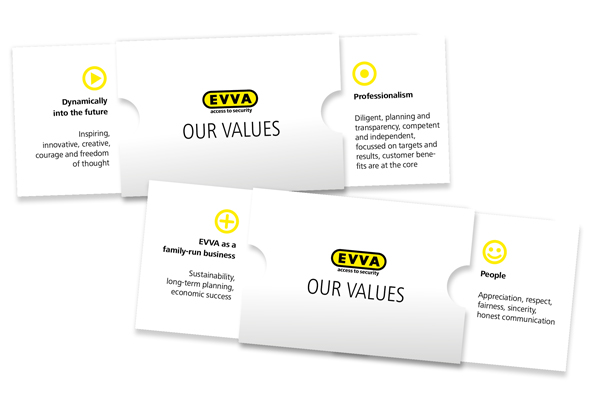 EVVA has defined clear guiding principles for its environmental policy:
Economising on raw materials and energy
Avoiding emissions and waste as much as possible
Viewing waste as potentially recyclable
Raising environmental awareness by informing employees and initiating a dialogue

Long-term: Thinking in terms of generations
We are a family-owned business with security expertise in the 7th generation. In addition to the owner family, numerous employees and their families work at EVVA across generations. At EVVA, what counts is long-term well-being and the continued successful development of the company. This is one of the many reasons why our staff turnover rate is far below average. Moreover, decades of reliable relationships with our customers and business partners are also the rule and not the exception.

EVVA logo 1920s and today

Value creation: looking at the big picture
EVVA considers the entire value creation process for its sustainable goals. From the conception of products that are as sustainable as possible to purchasing from regional suppliers and to resource-saving production. In the "Our projects" menu item you will find sustainable EVVA topics across all stages of the value chain. Examples in the reporting period:
Research & Development: Product development accelerated in cooperation with stakeholders; usage of new, more energy-efficient product components; established innovation management
Purchasing: Need for oil and water is reduced thanks to clean production; suppliers analysed according to regional proximity
Logistics: Proportion of reusable pallets increased; lean management tools introduced to reduce waste
Production: Proportion of clean production increased; more energy-efficient LED lighting; expansion of own photovoltaic systems; compressed air system greatly improved; state-of-the-art digital production technologies implemented
Sales & Communication: environmentally friendly packaging; stakeholder dialogues expanded; online ordering platform established
Sustainable use, after-sales: Delivery performance optimised; satisfaction surveys conducted; GDPR guidelines anticipated; durable products



In Balance: Economy, ecology and society
Even a single implementation can have many positive effects. For example, our oil-free Clean Production reduces resource consumption (= ecological sustainability), it saves hundreds of thousands of euros in purchasing and disposal (= economic sustainability) and it prevents skin irritation among production employees (= social/social sustainability). We set ourselves the challenge of combining economic efficiency, environmental protection and social benefits in our projects.

Replacement; Decisions in dialogue
Our sustainable strategy is based on networking. EVVA involves various stakeholders in processes and decisions – for example in product developments or the analysis of the most important key sustainable issues for our company. Many different perspectives keep us fresh and innovative. Everyone learns from each other – and new ideas and inspirations arise from this exchange.

Digitalisation: The focus is on people
EVVA invested in further digital manufacturing technologies and processes during the reporting period. This Industry 4.0 boost strengthens our competitiveness and thus our economic sustainability. But it also brings challenges. EVVA management takes the insecurities that can arise among employees seriously and has created the motto "Put people first". This is a strong statement in times of digitalisation. For this reason, no new digital tools are introduced without intensive simultaneous training. Personal communication at EVVA is increasing and not decreasing. EVVA has expanded the personal info breakfasts between employees and management. More on this under Employee satisfaction.