EVVA Academy
In-house training and further education
Lifelong learning:
For a technology company, ongoing training and further education of its employees is a given. In an increasingly networked world, knowledge gained once is not a guarantee of everlasting know-how.

The EVVA Academy offers a further education and training programme that ensures exactly this: an ongoing transfer of knowledge to acquire professional and personal skills. Internal and external experts pass on their know-how in courses – from one-hour short courses to more comprehensive training programmes. The EVVA Academy training courses are coordinated by the Human Resources Development department and cover all fields of knowledge: product training, IT programs, production methods, personal development, management programs, e.g. for personnel management, occupational safety and much more.

Educational facts of the EVVA Academy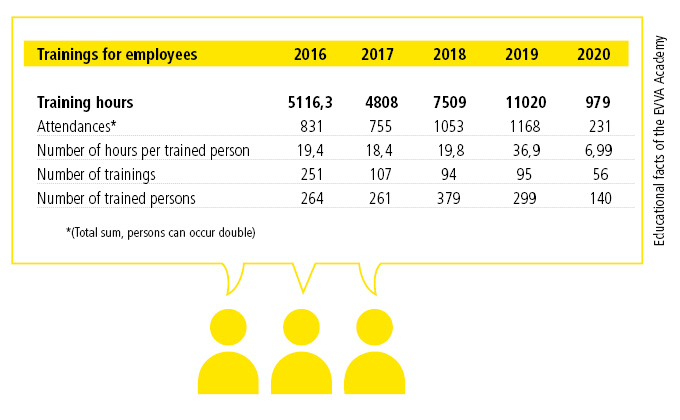 "The number of training courses has always remained at a high level in recent years," explains Catarina Wolkenstein, Head of Human Resources Development. "The decline in 2020 is due to the Corona pandemic – far fewer training courses could be carried out during the pandemic and the lockdowns. In the crisis year 2020, the EVVA Academy nevertheless made some trainings and further education possible for employees" The shortage of skilled workers is particularly noticeable in digital-affine professions such as IT and software development. EVVA complements its external search for experts with its in-house further education and training and its commitment to apprenticeships (more on this under Top training company).

In EVVA's employee orientation meetings (MOGs), which take place twice a year, the manager and employee jointly clarify whether the existing skills should be brought up to date or whether new skills should be learned. The MOGs also assess performance and professional development.

Impact on employees, trade partners and industry
Excellent training increases employee satisfaction, motivation and performance. The ongoing training measures underpin our company's high quality and strengthen its reputation as a reliable partner. Each EVVA Academy training session is then evaluated by the participants. We are delighted about the feedback. The average overall score of all training courses is still excellent with a sensational 1.3 in 2020.

Average score for EVVA Academy training courses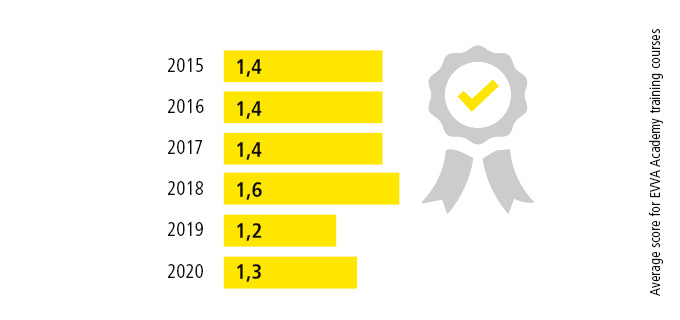 The EVVA Academy is not only available to our employees, but also to our trade partners. Many of our partners began with mechanical security systems. Electronic access solutions are increasingly in demand on the international market. Combined locking systems are now standard: mechanical systems provide the security foundation that has been tried and tested millions of times over, and electronic systems are employed to manage quick and easy access authorisations. EVVA Academy training courses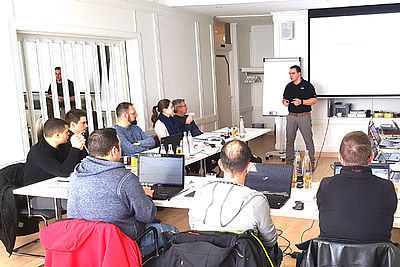 relieve traditional trade partners of fears of electronics and close competence gaps.
make us fit for today's market requirements,
help partners to reach more customers and generate sales with a wider range of products
All this strengthens the existing and future employment situation of our trade partners. Sales seminars with tips from international retail experts round off the seminar offering for EVVA partners in various countries. Due to the pandemic year 2020, the number of participants in training courses has decreased compared to previous years (see chart).

Training for trade partners

Further learning methods and new features:
In addition to the training content, EVVA also always updates the training methods. In addition to face-to-face training, webinars, new learning videos are used to provide step-by-step guidance (e.g. Kanban for logisticians or detailed processes in assembly) and can thus help to avoid common mistakes.


In 2021, EVVA introduced a new digital learning platform for employees. Countless learning content – on such important topics as digitalisation, cyber crime, time management and much more – can be accessed at work and also privately via the EVVA learning platform at any time. The selection of courses works as easily as with Netflix by clicking on the desired knowledge frame. The know-how is communicated by experts in several short learning units in an entertaining way. The EVVA learning platform enables a clear advantage in knowledge and is very well accepted and used by the employees

Installation videos (such as for locking cylinders on construction sites) are quick and easy support that technicians can access on site with their smartphones

Cooperation with the career platform Whatchado. EVVA employees from a wide range of areas present themselves and the company in a series of short, entertaining videos. Applicants and job seekers can find out more about the diverse range of jobs at EVVA, what day-to-day work is like in the respective job and what kind of training is required. EVVA links to all job vacancies to these videos – and works with Whatchado to help jobseekers find their dream job. All videos are available at https://www.evva.com/at-de/ueber-uns/karriere/mitarbeiter-videos/