EVVA Academy
In-house training and education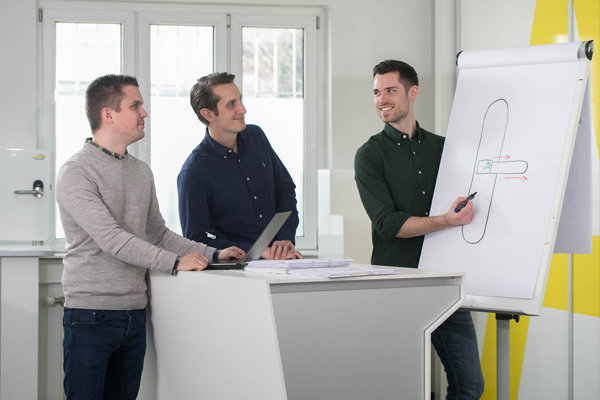 Lifelong learning:
For a technology company, the continuous training and development of its employees is a key matter. In an increasingly interconnected world, knowledge once acquired is not a guarantee of ongoing expertise.
The EVVA Academy offers a training and development program that ensures exactly that: ongoing knowledge transfer to acquire technical and personal skills. Internal and external experts pass on their know-how in courses - from one-hour short courses to more comprehensive training programs. EVVA Academy training courses are coordinated by the Human Resources Development department and cover all knowledge topics: product training, IT programs, manufacturing methods, personal development, management programs, such as employee management, occupational safety, etc.

Educational facts of the EVVA Academy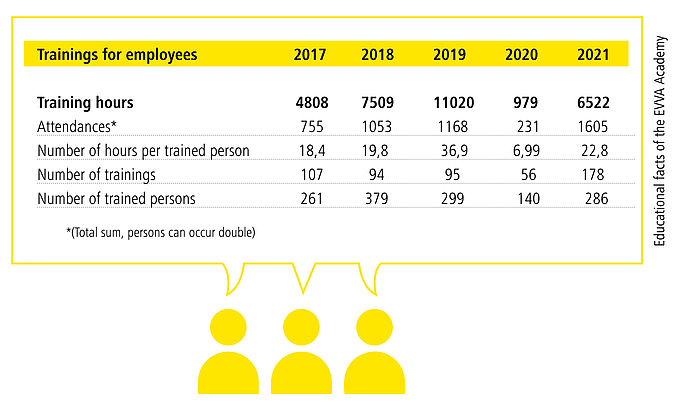 EVVA Academy training courses for employees (without "Masterplan" e-learning platform)

"In 2021, we were able to significantly increase the training level again after the drop caused by Corona. We are pleased to be able to introduce an additional e-learning platform 'Masterplan' in October 2021," says Catarina Wolkenstein, head of the Human Resources Development department.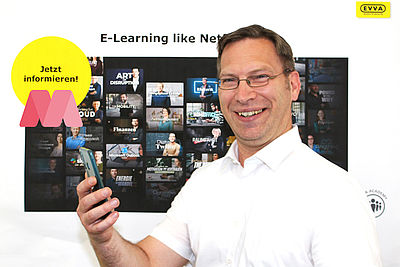 "Masterplan" is the new digital EVVA learning platform for employees. Countless learning content - on important topics such as digitalisation, cybercrime, time management and much more - can be accessed at any time at the workplace and privately via the EVVA learning platform. The selection works as easily as on Netflix with one click on the desired knowledge tile. The know-how is conveyed entertainingly by experts in several short learning units.
The EVVA learning platform allows for a clear knowledge advantage and is very well received and used by employees: in 2021, EVVA was able to reach an additional 967 education hours with this e-learning service!
Impact on employees, trade partners and industry
A shortage of labor is particularly noticeable in digital-related professions such as IT and software development. EVVA complements its external search for experts with its internal training and development program and its commitment to apprentices (more on this under Top Apprenticing Company). In the employee orientation meetings, which take place at EVVA twice a year, the manager and employee clarify whether existing skills are to be brought up to date or whether new competencies are to be learned. Performance and professional development are also assessed in the meetings.
An excellent training increases the satisfaction, motivation, and performance of employees. The ongoing training measures ensure the high quality of our company and strengthen its reputation as a reliable companion. Each training of the EVVA Academy is rated by the participants (internal and external). We are very pleased with the feedback: the average overall rating of all trainings is excellent.

Average rating for EVVA Academy trainings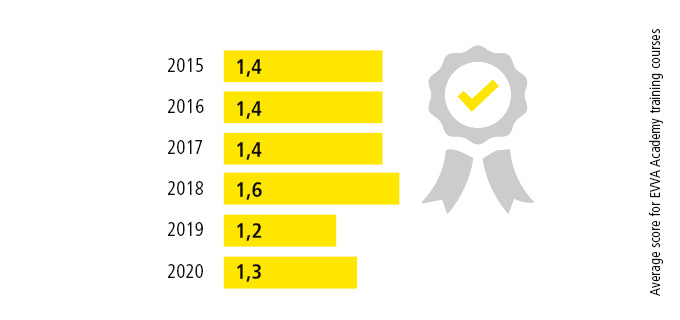 In 2021, we simplified the rating system internationally and changed it from school grades to stars. The average rating for all 2021 training courses is a very pleasing 4.6 stars (out of a possible 5).



The EVVA Academy is not only available to our employees, but also to our trade partners. Many of our partners started out with mechanical security systems. Electronic access solutions are increasingly in high demand. Combined lock systems are now standard: mechanics as the proven security foundation and electronics to quickly and easily manage access rights. EVVA Academy training courses:
EVVA training for trade partners in Germany

remove the traditional trade partners' fear of electronics and fill competency gaps,
prepare them for the market demands of the present and the future,
help partners reach more customers and generate revenue with a wider range of products
All of this strengthens the existing and future jobs of our partners in the retail sector. Sales seminars with tips from international retail experts round off the seminar program for EVVA partners in various countries.

Participation in training courses for trade partners (EVVA headquarters)


Further learning methods and innovations:
EVVA has been a funding and support partner of the "42 Vienna" coding academy since 2022 - a school for programming and software engineering - thereby providing free training places. Graduates of "42 Vienna" can work in companies such as EVVA with practical experience after just 6 months. Find out more at www.42vienna.com

Assembly videos (such as for lock cylinders on construction sites) are a quickly available support that the installers can access on site with their smartphones.

In addition to training content, EVVA is also constantly updating the training methods themselves. In addition to face-to-face training, webinars and new learning videos are also in use. They help to acquire the necessary knowledge content regardless of location and time.

Cooperation with the career platform Whatchado. EVVA employees from various fields present themselves and the company in a series of short, humorous videos. Applicants and job seekers can learn more about the diverse range of professions at EVVA, what working life is like in the respective job and what training is required. EVVA links to these videos in all job advertisements - and helps job seekers find their dream job.

Discover all EVVA career videos on https://www.evva.com/at-de/ueber-uns/karriere/mitarbeiter-videos/ In English on https://www.evva.com/int-en/career/employee-video-clips/