Top Apprenticing company
Honoured by the City of Vienna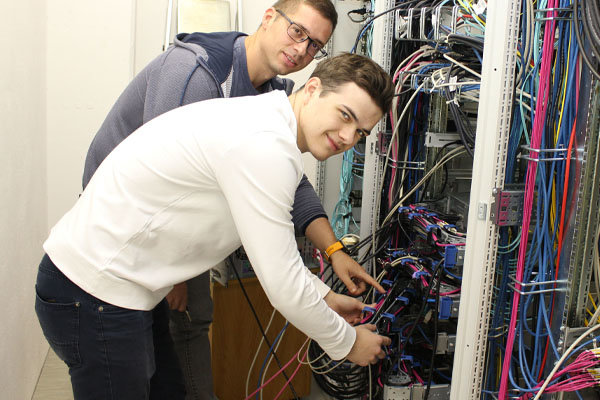 Apprenticeship company by tradition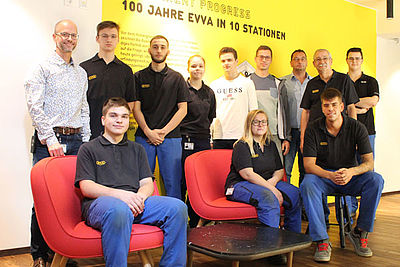 The future of a company depends to a large extent on how well it selects, trains, and educates its employees. EVVA invests significantly in the training and development of apprentices. Since the 1940s, the company has been taking on apprentices, and over the last few decades it has trained numerous apprentices in fields such as tool making or mechatronics, and since 2019 also in office/IT. Currently, EVVA employs 10 apprentices in Vienna.


Our apprentice commitment is rewarded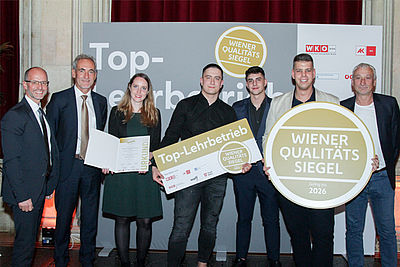 EVVA has been an official "top apprenticing/training company" of the city of Vienna since 2014, a distinction for which many requirements have to be met. The company takes on an important social and political responsibility with its apprenticeship training. The city of Vienna has recognised this and has awarded EVVA the distinction again for 2022 and it can carry the quality seal until 2026. This makes us one of the best training companies in the country. "The jury put EVVA through its paces. We were able to impress them with the presentation of our apprenticeship training. The final statement of the jury was: 'EVVA has set the bar very high for the other applicants', said Andreas Graf, Head of Automation Technology and responsible for apprentices at EVVA.

Our milestones for the renewed award:
Focus on "digitalisation": Each EVVA apprentice receives their own laptop; EVVA does not just rely on knowledge transfer in vocational school but checks the learned knowledge with mentors and through software. Deficits are remedied together.
Focus on "future orientation": EVVA revises training plans and integrates further digital competency areas that will be increasingly required in the future.
Focus on "lean management": Our apprentices are trained in state-of-the-art, low-waste, and high-quality production methods from an early stage. Lean management is not a fixed subject in vocational school, but at EVVA, apprentices learn about it in theory and practice.
EVVA is very proud of its apprentices, who help build the company and can take on important tasks at an early stage. Many former apprentices are now in important and leading positions. For example, Markus Oberhofer: He was an EVVA apprentice from 2010 to 2014. In 2019, he was appointed an apprentice trainer in toolmaking (see photo below).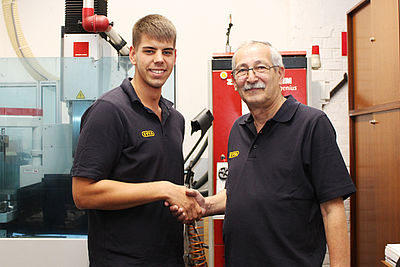 Yesterday still an apprentice, today already a trainer. Markus Oberhofer takes over training responsibility from his former mentor Johann Vasicek.

New profession: security technician
EVVA has lobbied hard for the new "security technician" apprenticeship to help alleviate the shortage of skilled workers in the industry. It will be offered in Austria from autumn 2022 onwards, and the curriculum has already been drawn up. EVVA CEO Stefan Ehrlich-Adám: "We can't just rely on politics, we must also train the skilled workers of tomorrow yourself." Nicole Ehrlich-Adám, who is also responsible for Human Resources at EVVA, further explains: "The dual training in Austria – that is, in vocational school and in the workplace – has become gained great importance. It is a model of success for the whole of Europe."

Female apprentices
Currently, only one female apprentice is employed at EVVA Vienna. We would very much like to take on more, but the selection of female applicants is still very small. Technology is still a very male-dominated field. To change this situation in the medium to long term, EVVA is taking several measures:
Participation (except during the pandemic) in the annual "Daughter Days", which allow girls between the ages of 11 and 16 to get a taste of the company's working world. This event organised by the city of Vienna aims, among other things, to alleviate any possible fears of technology and overcome reservations. The Daughter Days can awaken dormant interest and new passions for technical careers. In addition to EVVA, 159 other companies participated in 2019. Unfortunately, there was a forced pause in 2020 and 2021 due to the pandemic.

However, in 2022, female applicants were able to fully inform themselves about EVVA and get to know the family-owned company. The girls participated in a factory tour and were also able to work in the electronics assembly and mechanical engineering departments. "Laser cutting the lock cylinders and keychains with my name went insanely fast," said one of the participants. In the training workshop, they made their own workpieces and tried their hand at drilling, screwing, measuring, and thread cutting.

Participation in "Fit - Women in Technology" which initiates retraining for women.

Participation in Talent Days, which aim to inspire young people for careers in science and technology. EVVA apprentices and professionals talk about their working lives.