Top apprenticeship company
Honoured by the City of Vienna
Training company by tradition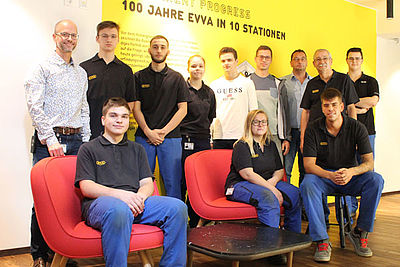 The future of a company depends largely on how well it selects, trains and educates its employees. EVVA invests heavily in the training and further education of apprentices. EVVA has been accepting apprentices since the 1940s. In recent decades, the company has trained numerous apprentices, e.g. in tool making or mechatronics, and since 2019 also in clerical/IT areas. EVVA currently employs 10 apprentices in Vienna.


Our commitment to apprentices is honoured
EVVA has been the official "Top Training Company" of the City of Vienna since 2014 – an award for which many prerequisites must be met. Thus, we shoulder social and community responsibility. EVVA is very proud of its apprentices, who help to build the company and can take on important tasks from an early stage. Many former apprentices are now active in important and leading positions. Like Markus Oberhofer, for example: He was an EVVA apprentice between 2010 and 2014. In 2019, he was appointed as apprentice trainer in toolmaking (see photo below).

"You have to work hard to earn the City of Vienna's quality seal. Not everyone gets it. Our company assumes an important socio-political responsibility with the training of apprentices. This is honoured by the City of Vienna. However, this success would not be possible without our experienced apprentice trainers. A big thank you to all of them!" summarises Andreas Graf, Head of Automation Technology and responsible for apprentices at EVVA.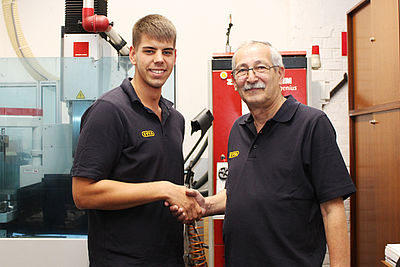 Yesterday an apprentice, today a trainer. Markus Oberhofer takes over responsibility for training from his former mentor Johann Vasicek

Promoting the "security technician" apprenticeship
The shortage of skilled workers is also increasing in the security industry. This development was also addressed in the EVVA Stakeholder Dialogue. EVVA CEO Stefan Ehrlich-Adám is the "Industry" sector Chairman of the Vienna Chamber of Commerce and is a strong advocate of education reform. The establishment of the new apprenticeship "security technician" is particularly important to him.

Women and technology
Currently only one female apprentice is employed at EVVA Vienna. We would very much like to take in more, but the number of female applicants is still very small. Technology is still a very strong men's domain. EVVA has taken a number of measures to change this situation in the medium to long term:
Participation (except during the pandemic) in the annual "Daughter Days", which allow girls between the ages of 11 and 16 to spend a day getting a taste of the world of work within the company. Among other things, this event aims to help allay possible fears of technology and to overcome reservations. Daughter days can awaken dormant interest and new passions for technical professions. In addition to EVVA, a further 159 companies took part in 2019. Daughter Days is part of the school curriculum

Participation in "Fit – Women in Technology", which initiates retraining for women

Participate in talent days designed to inspire young people to work in science and technology. EVVA apprentices and specialists talk about their professional lives
Fulfilment date: 2023
How: Every 4 years, the City of Vienna presents an award to the top apprenticeship company. After having won the award in 2019, EVVA will compete for it again in 2023.

Positive effects: This award confirms our reputation as one of the best and most reliable training facilities. Our milestones to receive the award again:
Focus on "digitalisation": Each EVVA apprentice is given their own notebook; EVVA does not only rely on knowledge transfer via the vocational school, but also checks the know-how learned through mentors and software. Deficits are remedied together

Focus on "future orientation": EVVA is revising its training plans and integrating further digital competence areas, which will be even more highly demanded in the future

Focus on "lean management": Our apprentices are trained at an early stage in state-of-the-art, low-waste and high-quality production methods. Lean management is not a taught subject matter at vocational school, but at EVVA they learn everything about it in theory and practice.