It all starts with AN IDEA
News | 15. February 2021.
Innovation is in our DNA
Daydreaming, seeing what already exists through a critical lens, the desire for improvement – that is often how the best ideas emerge. But that alone is not enough. As Thomas Alva Edison once said: "Genius is one percent inspiration and 99% perspiration." And this is where EVVA's strength lies. AirKey is the best example of this. Initially, the idea was a more convenient solution: simply opening doors with a smartphone. After many hours of research and development, testing and training, EVVA now offers an electronic access control system that is still unique today.
We love change
The desire for innovation is in EVVA's DNA. 101 years ago, it even became part of our company name. The result: 300 patents internationally and to this day a company that is ready to meet the current demands. Digitalisation, the knowledge society, the pandemic – keywords that describe the radical change. EVVA is also once again at the forefront. Instead of saving, we are investing. Instead of waiting, we are implementing. Instead of retreating, we are setting the course for the future.
New ideas need space
This is best demonstrated by the construction activities. They have been in planning for a long time, but nonetheless, they are being realised during the pandemic. They are necessary investments to continue offering EVVA Partners and customers high quality, innovative products, reliability and, above all, fair prices. At the Vienna location, the headquarters, a 1,500 m2 building will be added to the Production Department and construction work recently began on a new 2,000 m2 building at the Czech branch in Tišnov to expand on-site production. These buildings, which are planned according to the latest factory planning standards, will support EVVA's main pillars: production, logistics, safety and quality. Thanks to the new parameters, EVVA can launch new, future-proof products. At the same time, the improved processes also make the production of top sellers more efficient. Associated with this is an increase in speed, delivery reliability and quality – combined with a clear focus on sustainability. Investments totalling more than €20 million by 2022 are in the pipeline.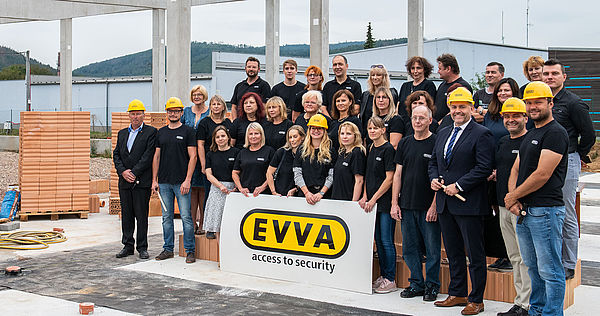 Invention – experimentation – application
At EVVA, the desire to create something new is always linked to the aspiration to invent and further develop long-lasting products of the highest quality in-house. Thus, the in-house research and development department is essential. However, a new way of thinking is required, paired with networking at all levels, if it is to continue into the future. That is why EVVA is cooperating with universities, such as the Vienna University of Technology and research institutes such as the Austrian Center for Digital Production, which are researching the future of production and the future of EVVA's products.
Digital equals service
At EVVA, service is at the core of digitalisation, just like with any of our products. The new digital options are intended to make life easier for EVVA Partners in future. The latest example of success is the option of ordering online in the Partner portal and keeping an eye on the order at all times – even in the evening or at the weekend. You can then identify with one click whether or not the requested part is in stock or how long the delivery period will be. All necessary configurations can be set by the user.
EVVA is there for its Partners
Yet another superservice: EVVA has been offering direct support online since as early as 2016. To save you time, we brought the technical support right to your computer, even back then. Via online training with our technology experts, EVVA Partners learn about Xesar and AirKey and can solve individual problems together. An equally important support in times when a personal meeting is not possible, is contact via videocall. EVVA started early here and has been using Microsoft Teams with success. It allows us to maintain personal contact despite adverse conditions and without the risk of infection. There is currently also real hype around virtual congresses and trade shows. The advantage for our Partners: they can be part of an event that presents the latest innovations, regardless of their location, and also experience face-to-face contact on site.
Tradition and the modern age
Despite innovation and progress: a world without mechanical systems is still unthinkable today. New demands won't change this. Both electronic and mechanical locking systems have their reasons for being. It is best to plan a combination of both, as the two systems cover particular planning needs. The combi key and hybrid cylinder developed by EVVA successfully connect both worlds. However, the key to success remains the willingness to adapt to new ideas: in development, production and, above all, in application. With an experienced partner like EVVA at your side, we can explore new avenues moving forward.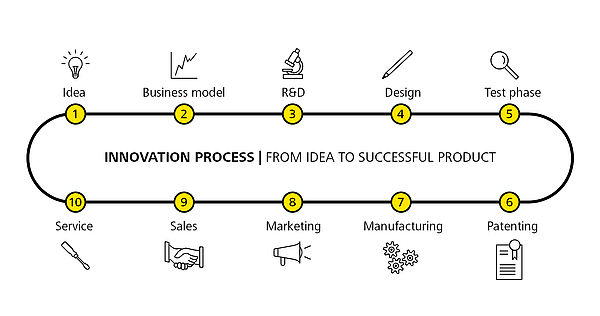 Milestones of innovation at EVVA
1919 Founding year EVVA, the "Erfindungs-Versuchs-Verwertungs-Anstalt", was founded
1937 First patent First patent for a cylinder padlock
1976 GPI market launch Ground Profile Integrated. Revolutionary scanning protection thanks to the introduction of multiple overlapping key profiles
1979 MCS MCS market launch – Magnetic Code System. EVVA receives State Prize for Innovation
2002 EMZY Market launch of the self-rotating electronic motorised cylinder
2006 3KSplus New master key systems are being developed: EPS and also 3KSplus
2014 Xesar and AirKey EVVA launches Xesar and AirKey, two brand new electronic access control systems
back