Cooperations and partnerships
on economic, environmental and social sustainability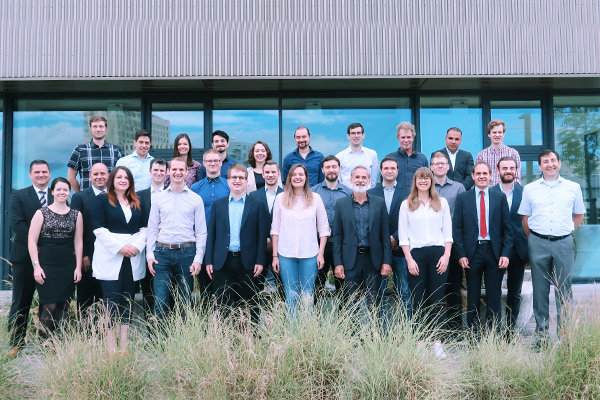 Learning together and from each other
Scientific exchange with leading institutions is essential for us as a technology company. And rich in tradition, as this selection documents:
EVVA developed the world's first computer programs for calculating locking systems back in 1977 – together with Kepler University in Linz

1979 Invention of the highly secure magnetic code system MCS – together with the Vienna University of Technology

In 2014, the new electronic access systems Xesar and AirKey are launched on the market – partially developed together with RISE GmbH.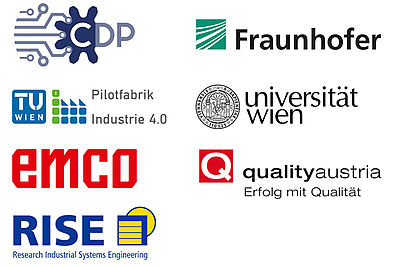 In the age of digitalisation, scientific and technological cooperation is more important than ever. EVVA's research network is an economic sustainability guarantor for all parties involved (right, a selection of our research partners).

We at EVVA, our stakeholders in the research sector and our trade partners and customers all benefit greatly from this exchange. Valuable research findings from practical tests are the result, and these can lead to product innovations and new technologies. Customers benefit, for example, from demonstrably higher security standards, more convenient applications and faster processes.
EVVA's current research collaborations:
Exchange on energy harvesting. Goal: Access solutions that supply themselves with energy, e.g. via movement or light. Research partners: pfi platform for innovation management and ENSUN technology scouting

Development and testing of an AI programme for locking system authorisations. Objective: The program automatically calculates complex access authorisations for a locking system. Research partners: CDP (Center for Digital Production) where EVVA is a co-shareholder (photo at the top)

Development and testing of production software that networks EVVA machines with each other. Objective: The production facilities can communicate optimally with each other and exchange data. Research partners: CDP (Center for Digital Production), University of Vienna and pilot factory of Vienna University of Technology

Feasibility studies for collaborative robotics. Objective: Optimal and safe cooperation between man and robot in production. Research partners: Pilot factory of Vienna University of Technology and Fraunhofer Austria

Optimised production planning. Objective: e.g. import data from production live, apply lean management tools comprehensively, use of additive manufacturing processes, etc. project partner: Fraunhofer Austria

R&D stakeholder dialogue: EVVA strategically involves stakeholders in product development at an early stage. Objective: Stakeholders are actively involved in the design and contribute their market experience, which leads to particularly needs-oriented solutions. Project partners: depending on the project, selected trade partners, suppliers and customers

Concepts for predictive maintenance i.e. digital predictive maintenance. Objective: Recognise possible machine faults before they occur. Project partner: EMCO, manufacturer of machine tools

Concepts for virtual machines. These are simulations that test production programming for variations and errors even before actual production takes place. Project partner: CDP and Technical University Vienna

ÖVQ (Austrian Association for Quality) is an umbrella organisation of Quality Austria that coordinates quality audits and training. EVVA cooperates very closely with this institution – jointly organised benchmark workshops for the industry take place at EVVA time and again

ALeS (Workplace-integrated learning in the smart factory). This so-called boot camp course was completed in 2021. The aim was to test virtual reality and augmented reality ideas in an industrial environment. Among other things, the EVVA project team designed prototypes for an AR product visualization in order to illustrate the complexity of a locking cylinder with over 300 components in a particularly clear and modern way. In addition, the EVVA team programmed a virtual tour through the EVVA building

Initiated by the cooperation partner "StEP-Up", a consulting company for management systems, EVVA has been taking part in a cross-sector lean management platform, the "Lean Circle", since 2021. The participating companies meet several times a year to share their experience about lean management, e.g. about work plan organization, production logistics, floor management, energy management, digital factory, value stream design, etc. Know-how and learning success are strengthened in internal competitions. EVVA won the internal competition at the beginning of 2022 and was awarded as Leading Lean Company! (photo below shows some EVVA employees who have participated at the Lean Circle)



EVVA cooperations in the area of sustainability:
Fulfilment date: 2024
How: EVVA is a co-shareholder of the Center for Digital Production (CDP) in Vienna together with other renowned companies. The CDP supports companies in the digitalisation of production processes – not only for very large batches, but also for the smallest batch sizes. In the first joint research period, the focus was on a new digital production software and the automated calculation of locking system authorisations. The second research phase will begin in 2021.
Positive effects: "By 2024, EVVA plans to make major progress in the expansion of worker assistance technology, i.e. digital support in assembly, as well as in AI-based production planning. The cooperation with the CDP will bring us all valuable new insights and experiences", says Florian Pauker, digitalisation professional at EVVA.