Quality
Sustainability needs reliability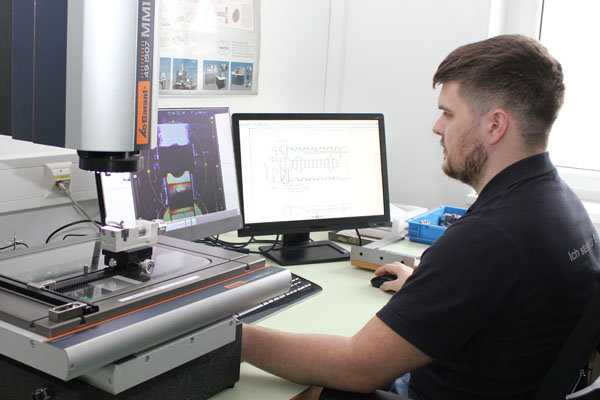 Management approach – our why:
Maximum security demands maximum precision.
EVVA manages many millions of cylinders and keys as well as several hundred thousand locking systems for companies, public institutions and private individuals. All EVVA products pass through several inspection steps – such as in the in-house test laboratory – before they are released for sale. Since its foundation, EVVA has produced an estimated 100 million security cylinders and considerably more keys. Special techniques are required for these quantities and complex manufacturing processes, which must be accurate to a hundredth of a millimetre.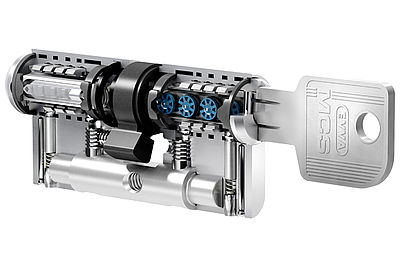 The EVVA vision illustrates how important this topic is to us: "From the perspectives of our partners and of our customers, at all touch points we are considered to be the best and most reliable manufacturer of mechanical and electronic access systems." And this also has a major impact on our customers and trading partners, which is why "quality" has been identified by stakeholders and EVVA as one of the most important sustainable topics.


Economic impact:
"Quality" features prominently not only in the stakeholder dialogue, but also in the last partner survey. Around 600 trade partners who sell our products worldwide took part. The quality of EVVA mechanical locking systems was rated as 1.38 (on a 4-point scale), the best result of all companies surveyed. Delivery quality and adherence to delivery deadlines (orders do not arrive too early or too late) are important to all respondents. EVVA is also rated very positively here (at around 1.5). Nevertheless, we want to improve further – see targets below.

The highest quality is now a prerequisite for a provider of high-quality and highly secure security solutions. If a distribution partner sells a defective product to an end customer, this also weakens their image and business. The demand for quality must begin with research and development (see Permanent innovation) and – especially with a highly reliable product such as a security cylinder – cover the entire product life cycle. Security is based on trust, and trust is based on quality. That is why it is so essential for EVVA and the entire security industry. "Quality will always have top priority at EVVA. Quality is teamwork and every individual is responsible for this", says EVVA CEO Stefan Ehrlich-Adám. And this is an ongoing, perpetual process, because quality orientation never ends.

Impact on the environment and society: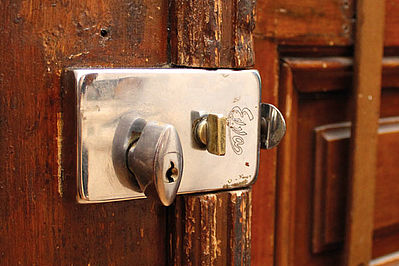 Durable products
EVVA products have a long service life, which has a positive effect on the environment. This is due to the high-quality manufacturing processes and high quality standards, which ensure security over decades. EVVA continues to receive many repeat orders from systems that have been in use for 50 years and longer (photo: An additional EVVA lock from the 1930s or 1940s, which still serves today in an older building). An EVVA security cylinder is an asset that lasts for generations; you can remove it and continue to use it in your next home. EVVA differs significantly from low-cost suppliers in terms of production, product range and service. The feeling of security that EVVA products provide is based on this high quality standard.
A word on the subject of repairs: Repairs are very rare because EVVA products are of high quality. In most cases, it would be more cost-effective for EVVA to simply replace than to repair. But that contradicts our position vis-à-vis the throwaway society. We want to avoid waste, especially because mostly only one component is affected and the product can still be used for decades afterwards. This is why EVVA continues to provide a repair service.

EVVA measures to increase quality and prevent errors:
(Selection from reporting period from 2015)
Error tickets reduced
EVVA launched a quality campaign to further reduce the number of customer tickets some years ago. As a result of the measures described below, EVVA was able to reduce the number of customer tickets relating to technical questions and problems to less than 1% (see targets).

New overall test concept
Introduced several years ago, this concept is now standard in all EVVA development projects:
1) The majority of checks are carried out as part of module or component tests. Here, the smallest units are checked for freedom from defects (e.g. mechanical components or drawings or software modules)
2) The integration test checks the interaction of several components (e.g. an electronic assembly or drilling protection)
3) The system test answers the question: "How well does the product work on its own?" (e.g. a mechanical thumbturn cylinder, the software for an electronic locking system, etc.)
4) The overall system test checks whether the individual products work together smoothly as part of a complete system. E.g. the software with the app and the door components
5) Finally, the field test takes place also with selected customers
Employees inform "Team 122" via a production app on the monitor

"Team 122" –the fire brigade in production
Team 122 consists of various EVVA professionals. It meets daily and checks current orders: Are there challenges that could jeopardise EVVA's high quality? It quickly organises any missing parts or personnel resources and prioritises important jobs. Team 122 masters challenging situations to meet the promised delivery deadline
EPOS (EVVA's optimised production system)
This EVVA initiative looks at all optimisation projects in production holistically and no longer in isolation as in the past. Lean management tools are used across departments. Such as the 5S principle (create order, sort out..., i.e. that all materials are exactly in the right place) or Kanban (i.e. that all materials are available in the right quantity and at the right time). EPOS teams also come up with their own quality improvement suggestions

QSP (Quality with Lean Processes)
The current QSP project analyses EVVA's entire process landscape – from business concepts to machine deployment and market launches. For example, it checks that all processes are clearly defined and have clear interfaces to avoid duplication of effort

During the reporting period, EVVA implemented numerous digitalisation projects to automate or standardise work steps and thus reduce the susceptibility to errors. One example is the digital ordering portal for trade partners. More about this under Digitalisation



EVVA manufactures with the tightest tolerances

Product with a sharp burr
Burrs can occur during production, i.e. sharp edges or product residue, which not only impair function but can also cause injuries. EVVA has reorganised the maintenance schedules for the relevant machines, checked them more closely and fitted the machines with sensors so that wear parts (such as broaching needles or rotary blades) can be replaced promptly. Disruptions or order rescheduling due to burred parts have practically ceased to occur.
Coupling errors minimised
In the reporting period, coupling errors occurred in electronic hardware in isolated cases. EVVA then developed new couplings that have been in use very successfully since 2019

More internal audits
It is not only external testing institutes that regularly test our quality. EVVA has intensified its own internal audits in recent years, including machine maintenance. In the so-called self-monitoring audit, a company undertakes to keep products continually up to date with the latest technology. Your great advantage: EVVA does not wait until external testers discover an error, which in the worst case can lead to the loss of a certificate, but continually puts itself to the test. The photo shows an employee at the service life testing machine. The standard demands that mechanical cylinders must fulfil at least 100,000 locking cycles (i.e. approximately 400,000 locking operations). Internally, EVVA sets the benchmark much higher, namely at 200,000 cycles.



Tests on the endurance testing machine

In general, EVVA always subjects its self-developed products to an FMEA analysis, the "Failure Mode and Effects Analysis". In this process, possible shortcomings are identified during the development process and evaluated with points according to probability and impact. This can concern the design, the manufacturing processes or the interaction of components. Precautionary measures must be taken from a certain score. EVVA uses the FMEA very comprehensively and in great detail
User protection tests:
Since EVVA complies with all regulations, our products can be used without hesitation throughout their entire product life cycle (e.g. with regard to electrical safety or batteries). All product labels are correctly applied (e.g. with usage, composition, battery identification, etc.). There has never been a contravention of legislation. Because all products are tested during the development process and in the in-house test laboratory, not only for functionality, durability or long service life, but also for safe application.
Fulfilment date: 2024 (former time target 2022 extended to 2024)

How: Customer tickets that relate to technical issues or errors etc. are coordinated by EVVA's Quality Management. In addition to its series production, EVVA also accepts most individual order variants up to a batch size of 1, i.e. a unique special security product. This can lead to completely new learning curves, which EVVA takes into account in a further production round. When defining the target for 2020, technical customer tickets were created for 0.97% of the annual orders. The aim was a reduction to 0.60% by the end of 2022 with the measures described in the text above. EVVA is already on the right track and is currently at 0.74%. Due to the pandemic restrictions in recent years, the 2022 target could not yet be implemented, which is why it was extended to 2024.

Positive effects: One of the EVVA quality principles is: "This is the standard we set for ourselves: We at EVVA deliver faultless products and services". We are very close to achieving this goal. It is verified by internal measurement systems and by an external evaluation performed by Quality Austria.

Fulfilment date: 2024

How: Delivery reliability means that the products arrive at the purchaser within the agreed period of time. Currently, our order-confirmed delivery reliability is 97%. In the recent years EVVA has received many more larger orders with higher unit quantities than before. Delivery times are naturally longer for large quantities and tie up more resources. With further optimisation of the order and production processes – e.g. via digital production apps that immediately signal the order status and the causes of delays – we want to reduce the current 3% of order-confirmed deliveries that cannot be completed on time to a maximum of 1%. The app then also takes over the internal measurement of delivery reliability.

Positive effects: The emphasis is on the "exact" delivery deadline, because delivering too early to a construction site is just as bad as delivering too late. Our industry usually comes to the construction site last, as the installation of the security cylinders can only take place once the doors have been installed. However, it is not uncommon for clients' projects to be delayed, and in order to make up time towards the end, EVVA must be able to deliver and install quickly. EVVA's very high delivery reliability therefore guarantees our partners and customers an optimum workflow and thus cost-effectiveness. This is a clear competitive advantage for EVVA.

Fulfilment date: 2023 (the survey on trading partner satisfaction has been postponed from 2022 to 2023)

How: In the next international quantitative trade partner survey in 2023, EVVA would again like to take the "Quality" pole position. In the 2017 partner survey, EVVA achieved an excellent average score of 1.4 (on a four-point scale).

Positive effects: The high quality ratings received from our sales partners are the best sign for us that we are on the right track and produce products that our customers can 100% rely on. This strengthens the economic sustainability of our trade partners and that of EVVA.