Certifications & Awards
EVVA sustainability: independently confirmed many times over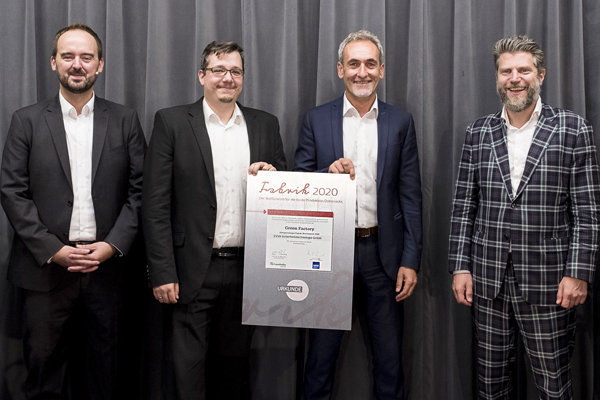 External certifications and awards confirm how important reliability and sustainable actions are to a company. For many customers, such as building operators, these serve as a decision criterion when awarding contracts. The certificates all attest to the very high quality, reliability and user safety of EVVA's products and machines. In addition to valuable external know-how, certifications also give us the guarantee of always being up to date and of being one of the best.

Selection of existing EVVA certifications: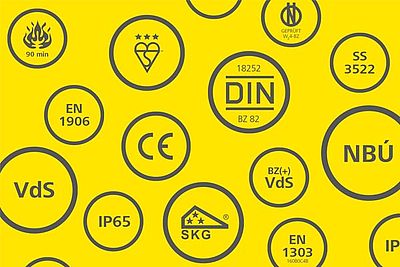 EN1303. All EVVA mechanical systems are checked for compliance with this standard by external international testing and certification institutions. EN1303 is also the basis for most national audits in other countries, such as SKG in the Netherlands, VdS in Germany, SS3522 in Sweden, BSI in the UK, etc.

EN15684 Our mechatronic cylinders for Xesar and AirKey access systems are externally certified to complying with this standard

EVVA systems are thus tested and certified internationally. They meet the highest standards, e.g. with regard to
> Durability (the cylinder must master 100,000 locking cycles on the door without any problems, in EVVA's internal tests they must even master 200. 000 cycles),
> Fire resistance (no flames may penetrate the profile cylinder aperture within 90 minutes),
> Corrosion (the cylinder must still be lockable immediately after 96 hours in the salt spray chamber)
> or attack resistance (the cylinder must be able to withstand a drilling attempt and a core pull with a force of 1.5 tonnes for several minutes).

At the same time, EVVA carries out further internal usability tests that are not provided for in EN1303, such as intensive function and free-wheel tests. Further information can also be found under Quality

Following these successful certifications and internal tests, EVVA is subjecting its new systems to further practical tests with the actual users in field test systems

ISO 9001 "Quality management" is a standard that ensures quality. It describes requirements for ensuring the quality of the company, product and process. EVVA Managing Director Stefan Ehrlich-Adám: "EVVA was one of the first companies to receive the important ISO quality certificate in 1993. In the industry, we were even the very first in Europe. This has given us a head start, as these awards have subsequently become increasingly important to clients and organisations, and more contract critical for us. New standards and new technologies, such as the use of AI, remain an ongoing challenge to keep our company fit for the future."

External energy audit according to EEffG (Energy Efficiency Act) and EN 16247 (European standard for energy audits). The certified auditor is "denkstatt enertec GmbH", which audits EVVA's energy balance and energy efficiency every 5 years. denkstatt has been conducting an annual CO² check at EVVA since 2021 (starting with the 2020 sustainability reporting year).

Annual EVVA environmental report which is reviewed and confirmed by several public institutions (environmental and waste magistrate, trade authority, Chamber of Labour, Chamber of Commerce)

EPD (Environmental Product Declaration)
EPDs are voluntary environmental declarations for individual building products to indicate the eco-balance of buildings. They include data on energy/resource consumption during the product life cycle. EPDs are a decision criterion in the construction of so-called green buildings, which must meet strict specifications. In the security industry, there are EPDs for all building hardware (e.g. lock cylinders). EVVA has already been able to win many green building projects with its EPDs, including the Prime Tower in Zurich and the Austro Tower in Vienna.
A selection of EVVA's sustainability awards:
2023: Energy Globe Award Vienna in the category "Water" – for saving around 1 million litres of water since 2015 (see Clean Production)

"Lean Leading Company" 2022, awarded by the company platform "StEP-Up" (more on this under Cooperations)

Award for "Sustainable Digitalisation" 2022, presented by ICT Austria, a non-profit organization for digitalisation (more on this under Digitalisation > Predictive Maintenance)

Winner of the "TRIGOS Award" 2021 (awarded by respACT) in the category Climate Protection (photo right) – for our Building control technology and progress in Clean Production

Award as Green Factory 2020 for best energy efficiency. Awarded by Fraunhofer Institute and Industriemagazin (industry magazine) as part of the "Factory 2020" competition (see photo above)

EVVA is a holder of the Austria Quality Mark (formerly Öst. Musterbetrieb), awarded by Quality Austria. We receive this award every year. External monitoring audits are a prerequisite for this. Only products and services of above-average quality, which are independently and regularly inspected, bear this quality mark

The City of Vienna's ÖKOPROFIT award for top-grade environmental management (award received every year since 1999)
Winner of "Call Pro Industry" for the assembly system of the future, 2015

Recognition by the City of Vienna as a top Apprenticing company since 2014

Innovation awards for the electronic AirKey access system, e.g. Mercur and Constantinus Award in gold in 2014

Winner of the sustainability award "TRIGOS Award" in 2012 for our Clean Production, renewed nomination in 2015 (awarded by respACT)

Patent office included EVVA in the group of Austria's eight most innovative companies, 2007