Responsible Corporate Governance
Our strategy & economic success
Defined as an essential topic for EVVA
GRI 203: Indirect economic impact; 201: Economic performance
UN Sustainable Development Goals (SDGs), No. 8: Decent working conditions and economic growth; No. 9: Industry, innovation and infrastructure; No. 11: Sustainable cities and communities
Management approach – our why:
Economic success is the basis for sustainability
The reason why is easy to explain: If a company relies on the wrong strategies, it increasingly loses ground economically – and in doing so, loses its efficacy and the staying power necessary for long-term innovative, ecological and social projects. As a result, workplace safety is reduced. Secure employment has perhaps the most positive sustainable impact of all, especially in the present climate. A company must therefore always stand on stable footing. Successful strategy work, forward-looking trends and thus setting the right course for the economic success of the company is a key sustainable issue for EVVA.
You can also find out more about our strategic guidelines in the "Why Sustainability > Strategy" section.

Economic responsibility
Since 2015, EVVA has
increased productivity every year (productivity is a key figure that compares input to output in actual/target working hours in the area of ​​production/manufacturing). 2020 even by 9%. Despite short-time working, large order volumes have again been processed particularly efficiently

and production output has increased until 2019 by a total of 14.5% (e.g. for security cylinders from 1.27 million kg in 2015 to 1.41 million kg in 2019). We were able to increase the demand for our access systems, use modern, high-performance production facilities and realise further digitisation steps. In 2020, the output in the economically challenging corona pandemic fell around 10% – an only slight decrease compared to the industry in this year of crisis. The level is currently roughly the same as in 2019, so we expect an increase in production output again in the next reporting period

Revenues in the 2020 reporting period fell slightly due to the coronavirus crisis, which was severe in terms of health and economy; fortunately far less than expected when the pandemic broke out in early 2020. EVVA achieved revenues of € 58.4 million at its headquarters (2019: € 61 million). And in the EVVA Group € 79.0 million (2019: € 82.9 million). (Other published capital ratios in GRI index 102-7)


EVVA productivity
However, economic sustainability is by no means the sole objective of EVVA Corporate Governance. Responsible Corporate Governance also takes environmental and social impacts into account when making decisions. Sustainability management is anchored in management and thus at the highest decision-making level (for more information, see GRI index 102-18: Corporate Governance, sustainability officers).

Strategic decisions and their impact on sustainability (selection)
Corona prevention concept
The management invested several hundred thousand euros in a comprehensive information and prevention concept in order to keep the negative health and economic effects of the pandemic as low as possible. With success:
– The vaccination rate of the employees amounts to 90% and is thus far higher than that of the general population
– The decline in sales in 2020 was far less than forecast
– You can find out more about EVVA's corona measures – such as a specially established Covid-19 test lane at the headquarters – under "Occupational safety & health protection"

Further development and communication of the new EVVA culture
EVVA has successively reformulated its vision, values, mission statement and Code of Conduct (GRI 102-16). Our corporate culture unites us and is the strong backbone of EVVA. The values, mission statement and Code of Conduct provide the framework for our daily decisions, behaviour and interactions in the organisation. We must take responsibility for our own actions - from an economic, ecological and social perspective. Sustainable action is firmly anchored in our EVVA culture. Sustainability and meaningful work form the common thread for the steps taken in organisational development, digitalisation and continuous training. They serve to make the organisation fit for the future. We are convinced that how stakeholders perceive EVVA at all common touchpoints has a major impact. Our relationships with stakeholders are therefore also based on our foundation of values.

Each employee received a handy little culture box containing EVVA's vision, values, mission statement and Code of Conduct. This is an important part of our onboarding process. The employee magazine regularly presents best-practice examples from everyday working life to illustrate the EVVA culture even better. In order to regularly review ourselves as an organisation, the major employee surveys ask about how well the vision and strategy, etc. are perceived, understood and used as guidelines. The finding of the last survey in 2020: They are both clearly understandable and the staff are committed to them (see graphic). Most of the scores are between the very good values 1 and 2:
Vision & Strategy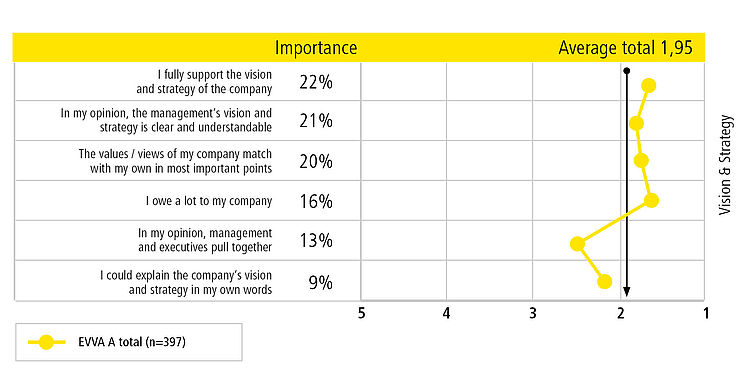 Integration of sustainability in all strategies
EVVA established its own management board for sustainability in the reporting period. Sustainability and future strategies are an integral part of all divisional workshops
Combination keys open both mechanical and electronic locking components

Promoting the combination of mechanical and electronic access systems
In addition to mechanical access systems, electronic systems are becoming increasingly popular, for example to secure the front door with a card or smartphone. It is therefore commercially vital for a manufacturer of security systems to offer a combination of mechanics and electronics. During 2014, EVVA introduced two in-house developed electronic solutions to the market – and has continuously provided them with enhancements and updates since 2015. They complement the fundamentals of mechanical security due to offering advantages such as quick changes to access authorisations, documentation of accesses or special operating features. The number of trade partners who sell EVVA's electronic access systems internationally in addition to our mechanical solutions increased significantly during the reporting period: from 384 in 2014 to 1848 at the end of 2019, and 2277 at the end of 2020

A secure location
The family-owned business EVVA is a very reliable employer for around 750 employees across Europe and also guarantees stability for all other stakeholders. Long-term partnerships are more important than short-term profits. This reliability also stands for the sustainability of the location. In 2019, EVVA began to plan the expansion of the headquarters in Vienna and the construction of a new building for its branch in Tišnov, Czech Republic. Both have been completed in autumn 2021.



The new extension in Vienna


The headquarters are located in the middle of a large city. A rarity now. Many industrial companies are relocating to greenfield sites on the outskirts or to rural areas in order to save costs. EVVA has remained loyal to its location for 65 years. Employees benefit from excellent public transport connections (EVVA pays 50 % of their travel costs!) and suppliers benefit from outstanding road links. For this reason, the strategic decision to further expand the location was unequivocal.

EVVA managing directors and owners Nicole and Stefan Ehrlich-Adám were awarded the Silver Medal of Honour by the Chamber of Commerce for their special contribution to Vienna as a business location (photo at top)

Impact of the extension in Vienna:
> Significantly improves material flow and throughput times (among other products, Akura, the newly developed EVVA mechanical access system, which was launched on the market in 2021, is produced on state-of-the-art production lines in the new building)
> Optimises workplace conditions for production employees (e.g. in terms of space, climate)
> Substantial investment of around 6 million euros for new infrastructure. Suppliers and construction companies benefit from this
> contribution to the stability and security of the local economy: over 450 jobs directly at EVVA and many hundreds of workplaces of our trade partners in the city
> Strengthening and expanding local industry in urban areas
> further EVVA photovoltaic systems

An underground garage with several e-charging stations, a ground floor, 3 floors and an attic floor were built on an approx. 650 m² footprint area. "We were thus creating new production areas of around 4,000 m² with space to produce our new product innovations and manufacture existing solutions more efficiently," says Michael Kiel, EVVA Group Division Manager Operations & Quality Management.
The new EVVA building in Tišnov

Impact of the new Tišnov building:
> The old building was dissolved and a state-of-the-art prestigious production facility was built. This is mainly where locking systems for the Czech Republic and Slovakia are
manufactured
> The new building is not far from the old location and can be easily reached by employees
> Total investment of 2 million euros, the contracts are awarded to local construction companies and trades

Focus on innovations, digitalisation strategy and in-house mechanical engineering
EVVA continuously invests in its own research and development – 7% of turnover in the reporting period 2020. More information on the subject of permanent innovation and digitalisation
Fulfilment date: 2024
How: In the new extension to the Vienna headquarters, which has been completed by the end of 2021, EVVA will set up state-of-the-art production lines for the manufacture of new access systems.
Positive effects: The new manufacturing processes will significantly optimise material flow and lead time: from order entry to production to delivery, it is expected that the lead time will fall from 5.84 days in 2019 to less than 5 days.
Fulfilment date: 2023
How: We expect the share of electronic access systems sold to be between 14 and 20% of our total business by the end of 2023.
Positive effects: A balanced product range promotes stability and competitiveness. We expect a continued strong increase in electronic access systems. Increasing the proportion of electronic components sold is an important strategic step towards achieving our sales targets for the coming years.
Fulfilment date: 2024
How:
1) Further cross-stakeholder sustainability dialogue to update the EVVA strategy. The current key topics were developed in the Stakeholder Dialogue 2020 and are intended to be the guiding principles behind our sustainability goals until 2024
2) Employee surveys relating to EVVA sustainability take place every 4 years, the last in 2020, the next in 2024
3) Partner survey relating to EVVA sustainability. The existing partner surveys are to be expanded to include sustainability topics for the first time
Positive effects: EVVA maintains an intensive exchange with stakeholders. The various perspectives on EVVA's economic, environmental and social impact help us to implement a successful and increasingly precise Corporate Strategy.