Electronic locking systems
EVVA's electronic access systems link high levels of security with simple operation.
AirKey makes your life easier and you more independent. With AirKey you can open your door with your smartphone, assign keys via SMS and organise your entire Airkey system online. Consequently, this electronic locking system offers you maximum freedom and maximum security for your professional and private life.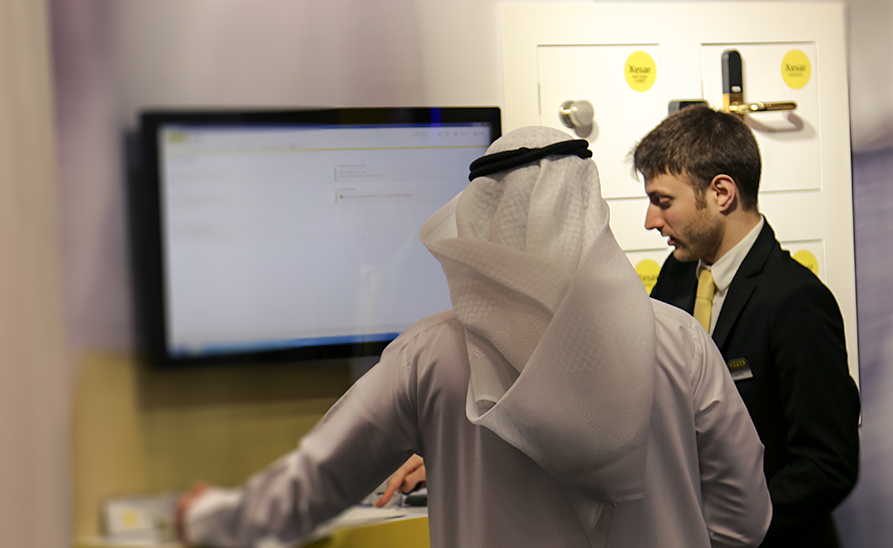 Reliable for you on site
Through our dense distributor network
EVVA has been a regular exhibitor at Dubai's major trade fairs for many years, including the Big 5 and the Intersec. Numerous distributors have already been won and reliable partnerships cultivated. Well trained by EVVA, our partners will not only provide you with professional advice but also with reliable support.
Austrian Quality
Developed and produced in Vienna.
For decades, EVVA has been a synonym for mechanical and electronic locking systems that meet the highest technical standards. Established in 1919 as "Erfindungs-Versuchs-Verwertungs-Anstalt" (EVVA) in Vienna with a spirit that remains a vital part of our corporate philosophy to this day: we conduct our own research and development and we produce our innovative access control systems inhouse.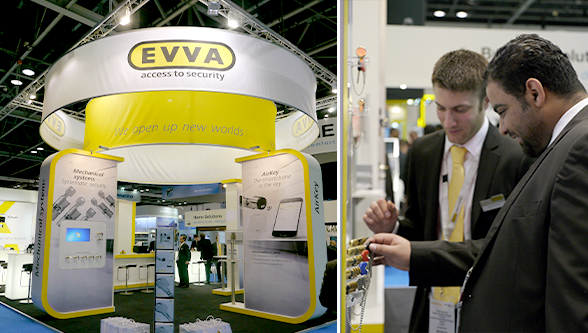 AirKey features
Benefit from the AirKey key features
Send a Key
The easy way to send keys.
Simply send keys to freelancers or holiday guests via push notification. Individual messages included.
Available on Android and IOS Smartphones
Bluetooth and NFC
Whether you use IOS or Android smartphones, AirKey offers you the choice when opening the door.
Geo-Tagging
Find locking components.
The smartphone knows where the AirKey components are located and points the way via the navigation app.
Office Mode
AirKey for offices and shared offices.
Providing security and easy access to particular doors and at given times, requires a flexible, high-security access control system. Automatically includes public holidays, summer and winter time.
Component sharing
Simply send keys from your administration software directly to the tenants' or employees' smartphones.
Multi administration
The AirKey online administration allows you to manage distributed company locations separately, quickly, easily and conveniently using multiple admins.
Contact us!
We are pleased to present AirKey to you...
Customers & projects
Here is a selection of successful AirKey projects.
POMAseiuno
| | |
| --- | --- |
| Product: | AirKey |
| Size: | 1-100 units |
| Facility type: | Residential buildings for communities |
| Country: | Italy |
A new type of living is developing in the heart of Milan, a lively city bustle that merges the underlying desire for tranquility. POMAseiuno offers a new concept of living, ranging from a personal concierge to communal areas, such as rooftop garden, gym, quiet areas and massage facilities as well as play area and baby club.
All residential properties are characterised by high-quality, elegant equipment. A high-tech facility management system also enables controlling lighting, energy consumption, external shading systems, intruder alarms and CCTV using a corresponding app.
POMAseiuno planners had intended a control system for the corresponding alarm system involving three underground garage doors that are linked to access doors featuring anti-panic locks. EVVA Partner KSE installed an integrated alarm system including AirKey control system that allows authorised users to switch off the alarm and access the facility. Thanks to the vast potential of AirKey systems, cloud-based database management solved a central issue that was of fundamental significance for planners: access control for lifts including direct access to residential units. The system allows simultaneous management of shared POMAseiuno access points and private residential units which can be accessed directly from the lifts. This solution is based on maintaining two completely separate databases. This guarantees excellent security levels!
In addition to controlling U.S. doors in underground areas and lifts, the AirKey access control system has also been installed in all of Pomaseiuno's communal areas, such as gym, conference facilities, bicycle storage, etc.
After having handed over residential units, owners also have the option of integrating armoured access doors into the system and, identically to the process for lifts, use their personal database and the POMAseiuno database simultaneously. It goes without saying that all this is carried out with a single key.
The project involved the installation of 55 AirKey wall readers managed by around 600 AirKey identification media.
Beak Serviced Apartment
| | |
| --- | --- |
| Product: | AirKey |
| Size: | 1-100 units |
| Facility type: | Residential complex |
| Country: | Hong Kong SAR of China |
Successful residential AirKey project in Beak Lane, Hong Kong
The Serviced apartments in Beak lane in Sai Ying Pun, Hong Kong rely on AirKey since 2016. The 26 apartments are all equipped with AirKey cylinders and the users benefit from the flexibility of the system. If maintenance or cleaning of the room is scheduled, the staff can enter the room by being granted an access authorisation while every access can be monitored just-in-time by the owner of the apartment. Our Hong Kong based EVVA partner Tung Fat Ho did not only specify the project but also install and support the project from day one. Thanks to the combination of their service and the EVVA products, the users of Beak Lane Serviced Apartments are happy to use a flexible and modern access control system such as AirKey.

For the installation using AirKey was beneficial due to the modular design, which enables to adapt the length of the cylinders on site and therefore simplifies the planning. Furthermore the high quality design provides an eye-catcher for the users and their guests.
ZWÖLFER-REISEN
| | |
| --- | --- |
| Product: | AirKey |
| Size: | 1-100 units |
| Facility type: | Industry and trade |
| Country: | Austria |
The electronic locking system AirKey secures ZWÖLFER-REISEN, a modern travel agency with various sites.
Zwölfer-Reisen was established as early as 1929. The family-owned business has been run by the nephew of the Zwölfer family, Mr Michael Ringsmuth and his wife Petra, since 2002. Initially successful as a cargo carrier and organiser of trips, the business was extended by a TUI travel agency and an Ö-Ticket sales point in 2007. Most recently, in 2011, the company grew by a branch in Krems and new offices in Melk. Only one year later saw the inauguration of the new bus garage in Melk and in 2014 the company added a new branch in Hafnerbach.
Smart access management within a locking system
As a result of the various sites and the company's history, Mr Ringsmuth was seeking an access system that can be used flexibly within his modern company. With AirKey, he found what he needed at EVVA. Our partner, Jürgen Hirsch, was able to score high marks on Mr Ringsmuth's cards thanks to the competent advice and AirKey. Hirsch installed the system at the existing sites and commissioned it to the full satisfaction of Mr Ringsmuth.
Smart rental with AirKey
| | |
| --- | --- |
| Product: | AirKey |
| Size: | 1-100 units |
| Facility type: | Residential property |
| Country: | Austria |
Airbnb landlord simplifies access to properties thanks to AirKey.
Airbnb is a story of success: since 2008 the platform has helped book more than ten million overnight stays. The concept is simple, but genius: Airbnb refers accommodation in over 190 countries and over 26,000 cities, including Mr Höfinger's property in Vienna.
Key handovers by smartphone
For Mr Höfinger key handovers were a tedious and time-consuming task. He was looking for an electronic locking system, discovered AirKey and was immediately impressed. Thanks to the installed AirKey cylinders he can now manage access online, i.e. also temporarily grant or deny access. The perfect addition for his Airbnb property.
AirKey saves time and money
"Customers can also do away with tedious processes within the context of key copies and lost keys. They can block access and create new access accounts at the push of a button", the customer advisor adds. All within a matter of seconds.
Vienna cemeteries
| | |
| --- | --- |
| Product: | AirKey |
| Size: | 101-500 units |
| Facility type: | Infrastructure |
| Country: | Austria |
Cemeteries are places of culture and part of city history. Friedhöfe Wien GmbH manage more than 600,000 graves on 46 cemeteries in Vienna.
With a workforce of 400 Friedhöfe Wien look after 46 cemeteries and a total of 550,000 plots. The company also is also responsible for Vienna's Central Cemetery, Europe's second largest cemetery. Working with various sites is subject to dynamic properties. Systems must allow you to grant access authorisations to different persons at different times. This brings about enormous organisational challenges and requires an access system that offers flexibility and maintains maximum security.
Managing 46 sites
With sites spread around Vienna and partly differing opening hours as well as organisational demands, the requirements to a comprehensive locking system were vast. For this reason, operators opted for the combination of the AirKey electronic locking system and 3KSplus, the outstanding maximum security system, to maintain absolute access control in every case and simultaneously act flexibly and quickly.
Clear-cut requirements
Operators had clear specifications in terms of locking system solution security. They demanded a fast and uncomplicated locking system quickly and as part of a straight-forward process in addition to a mechanical 3KSplus locking system. On a whole, the locking system for 400 employees and different user groups as well as hierarchies must be easy to manage.
AirKey installed successfully
EVVA Partner WERHAN TPS Sicherheitstechnik provided the perfect, additional solution which met all requirements as well as satisfied employees' and clients' security demands.
This object was realised with the locking system 3KSplus, which corresponds to today's 4KS locking system.
Sozialarbeit im Netz
| | |
| --- | --- |
| Product: | AirKey |
| Size: | 1-100 units |
| Facility type: | Residential buildings for communities |
| Country: | Germany |
Social services are all about helping people help themselves. There are situations in life where we struggle with problems and crises caused by changes to our circumstances. And sometimes it can hit us out of the blue. "Sozialarbeit im Netz" supports and helps through tough times. Trained specialists in Mannheim provide support to persons with individual needs as mobile units and also in a day centre.
A total of 14 doors including the main entrance of the "Sozialarbeit im Netz" day centre and its accommodation facilities have been secured using AirKey. The EVVA Certified Partner "Haus für Sicherheit" took care of the installation. The partner presented AirKey in collaboration with the EVVA sales team and it immediately convinced client Joachim Schwarz. "In many cases, purely mechanical locking systems no longer meet the changed requirements in terms of facility usage. If keys are lost, it is very difficult to immediately secure the system and replace all keys as well as install new cylinders", Willi Ermentraut explains, EVVA sales team member, who was also responsible for this project. In this process, by selecting AirKey our customer opted for a modern, electronic locking system which can operate without additional identification media because NFC-compatible smartphones are used instead. "AirKey ideally matches our demands and was quickly installed to our satisfaction", Schwarz adds. The strictest requirements to a matching locking system for "Sozialarbeit im Netz" was creating the flexibility within locking hierarchies and access control for event logs. "It is also very handy that we can use our smartphones", Schwarz explains. Individual time profiles are also in use. If a smartphone or key tag is lost or stolen, both components must be electronically locked. "Our advantage is that we are using NFC with AirKey. AirKey quickly and easily adapts to organisational changes and subsequent changes to access authorisations", Kai-Uwe Plößer, EVVA Certified Partner and owner of the "Haus für Sicherheit" happily adds. There are plans to install AirKey in additional residential properties within Mannheim's city boundaries.