EVVA boosts the Digital Services division
Press | 20. March 2018.
Gunther Glawar is responsible for the Digital Services division focussing on the future and thus the associated, digital changes at EVVA Sicherheitstechnologie GmbH.
The industrial company aims to continue to drive ahead with digitalisation and for this purpose, the company has established the Digital Services division. Gunther Glawar has been Executive Vice President/CDO of this new division since September last year.
The 46 year-old is originally from Styria and he launched his career in logistics and IT at KNAPP AG after having graduated from TU Graz in mathematical science. After three years the engineer moved on to process consulting at Magna Steyr where he was able to further evolve his IT and digital expertise over a period of nine years. Gunther Glawar's last position at Hirtenberger Group involved IT and digitalisation and consequently he was the ideal candidate for the digital services position at EVVA.
"I am delighted to be able to help shape the digital campaign of a traditional, family-owned business with a history spanning almost a century. Digitalisation offers many opportunities, especially within the context of security technology, to foster EVVA's innovative drive. I will concentrate on evolving these opportunities for customers, but also continuously optimise internal company processes using digital services", Glawar says to describe his new position.
"Our success as a reliable partner is ultimately based on the fact that we have been developing patents ever since day one to drive forward innovations that centre around our customers. For this reason, we aim to make ideal use of the opportunities and options digitalisation brings about for our company and our customers. We are delighted to appoint Gunther Glawar as an acclaimed expert to this position with high levels of responsibility", Stefan Ehrlich-Adám, CEO at EVVA Group, explains the appointment of Gunther Glawar as Digital Services Group Division Executive.
Credits ©EVVA (print free of charge for editorial use): Gunther Glawar (46) is the new Digital Services Group Division Executive at EVVA Sicherheitstechnologie GmbH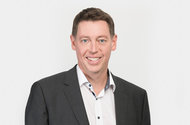 back