Additional ICS improvements
News | 21. August 2019.
Following the improvements we made last year, we are making ICS even better this year.
We are continuing to enhance ICS and reduce levels of wear.
› Pocket milling on the ICS key tip ready for delivery.
› Improved drilling hole positioning for locking pins – delivery from mid 2019
Please note: all plugs and keys are compatible with each other.

If you have any more questions, do not hesitate to contact your EVVA consultant.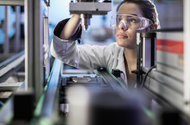 back