New special finish available: antique brass
News | 10. November 2021.
The new antique brass special finish fits perfectly with the appearance of antique doors.
EVVA monitors the global market trends. The demand for an antique finish is currently growing in several international markets. This is why EVVA has added the special antique brass finish to our portfolio for you.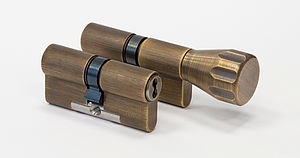 The special finish matches perfectly in doors where the cylinder is not supposed to disrupt the overall visual appearance.
Antique brass is now available for all mechanical cylinders.
Delivery time 7-8 weeks.
The product code for the order is: LB
back