ICS. Strong and reliable
Security with plenty of convenience
Thanks to ICS you boost the convenience of your system, can rely on planning and investment security as well as the durability and long service life of the system. ICS is a durable, reversible key system with such extraordinary levels of calculation features that master key systems can be planned ahead to take into account potential extensions. Be it office buildings, schools or student residences, ICS will convince you.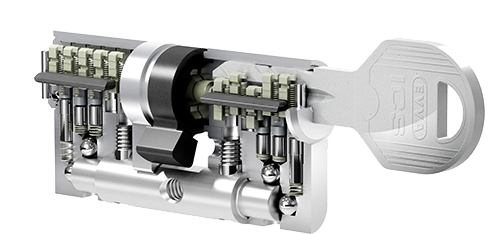 The ICS cylinder
ICS offers different locking technologies for high levels of protection: time-tested curve system, the durable length profile and distinctive track system with internal recesses. The scanning takes place in five tracks through 13 spring-loaded locking elements and the durable length profile.
International certifications:
The international ICS certifications and country-specific models mean products are suitable for use throughout Europe: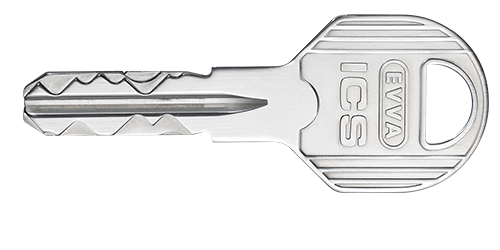 The ICS key
Being reversible, ICS key offers two advantages at once. Inserting the ICS key into the cylinder is particularly easy due to the key's specially developed tip. The key's thickness of 3 mm and the high-quality nickel silver alloy make the key durable and resistant to wear. The depth of the three cuts on the bottom of the key are now concealed. Consequently, illegal key copies are virtually impossible, even using the most recent 3D printing methods.
The ICS design key
The ICS key are optionally available in the colours black, red, blue, white, yellow and green. The colour coding helps to differentiate between keys.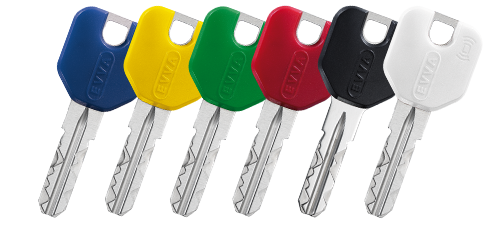 Hybrid cylinder
Electronic systems combined with mechanical systems
Mechanical and electronic systems combined in a single cylinder
Suitable for combination with all current, modular, mechanical systems
Quick and simple conversion of mechanical systems
Electronic, individual profile with combi key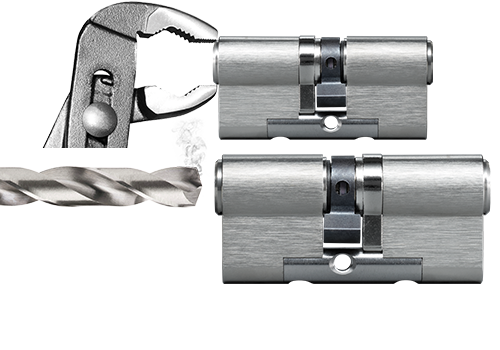 Picking and scanning protection
Split and non-split scanning elements prevent scanning positions from being detected. The ICS cylinder is practically impossible to open with lock picking tools. The hidden gates on the locking pins prevent the ICS cylinder from being scanned.
Drilling protection
The chrome-vanadium elements in ICS cylinder protect it from illegal opening methods. Additional security elements offer high attack resistance.
Plug pulling protection
The chrome-vanadium pins in the cylinder plug, combined with the steel rod in modular design (SYMO), offer high plug pulling protection.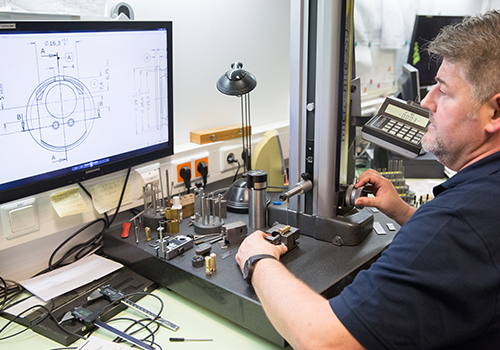 Take the extra security step by the EVVA security card.
Key copies, additional cylinders and lock charts are available from authorised EVVA Partners, providing the relevant proof of legitimacy only, i.e. the EVVA security card.
Patent protection until 2038 at the latest
All EVVA products are only available at authorised EVVA Partners. EVVA is authorised to take legal action against any kind of patent infringements. Patent protection until 2038 at the latest.
Technical protection with the necessary specialist expertise
The technical features of an ICS key require extensive specialist knowledge and specialist machinery during production. Illegal production with cutting-edge 3D printing methods is, therefore, virtually impossible.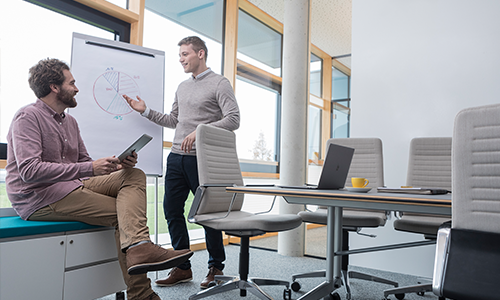 Everybody's darling
Be it in offices, schools, libraries, residential complexes and care homes, ICS is a very popular, tried and tested, mechanical locking system. Complex master key systems with high levels of planning and investment security are feasible, as are demands for reliable security: The ICS key features advanced copying protection against cutting-edge 3D printing methods. The system is also compatible with EVVA electronic locking components.
ICS References
Here is a selection of successful projects.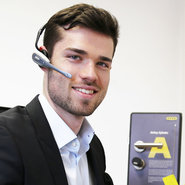 Business contact
For partners and companies
Aldridge Security Ltd. London
Send email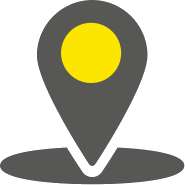 Master key systems
EVVA is also a genuine master key system professional able to tackle any levels of complexity in terms of organisational structures and to implement them within the corresponding master key system.
Find out more about our master key systems