EPS. Best pin system
Security for generations
EPS reliably protects residential properties and is also suitable for clearly structured master key systems. Consequently, EPS is a frequently used access system in office buildings, catering or residential properties. EPS is the successful result of the continuous development of tried and tested EVVA pin systems. High levels of user convenience and the system's durability make the system the best pin system.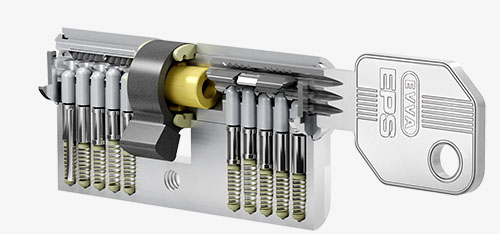 The EPS cylinder
EPS is a pin-tumbler system with 5 or 6 active, spring-loaded pins and up to 20 additional side codes. A high level of security is additionally granted thanks to the negative control element within the cylinder checking if the key has been manipulated and to the specially designed locking pins.
The EPS cylinder is available in compact and modular design.
International certifications:
The international EPS certifications and country-specific models mean that the products can be used throughout Europe: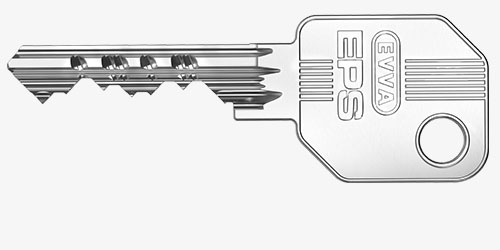 The EPS key
The EPS key is a strong nickel silver key with large key cross-section. This makes it wear-resistant and long-lasting. The distinctive side coding and associated, integrated manipulation control make it even more secure. Thanks to the robust length profile and optimised lower milling grooves, the EPS key is particularly easy to insert.
EPS-M with international brand protection
The international brand can be identified by the EVVA logo on the key's profile. EVVA can take legal action against any kind of brand infringements.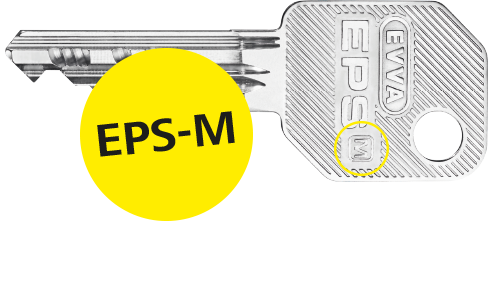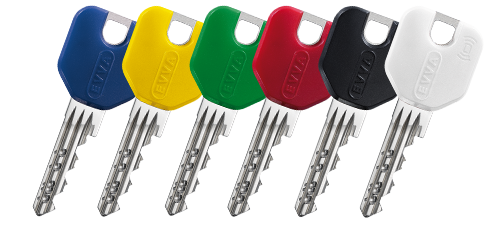 The EPS design key
The EPS key is optionally available in the colours black, red, blue, white, yellow and green. The colour coding helps to differentiate between keys.

Hybrid cylinder
Electronic systems combined with mechanical systems
Mechanical and electronic systems combined in a single cylinder
Suitable for combination with all current, modular, mechanical systems
Quick and simple conversion of mechanical systems
Electronic, individual profile with combi key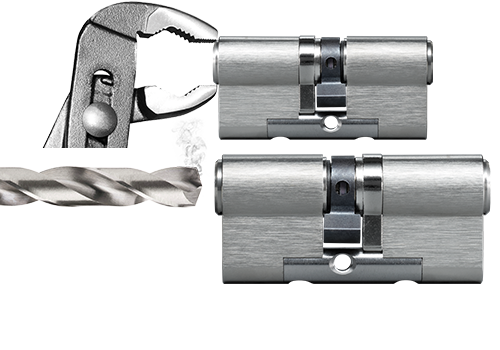 Picking and scanning protection
Thanks to the picking protection scanning positions within the cylinder cannot be identified. Therefore the EPS cylinder is harder to open with specialist tools. In the compact design, the EPS cylinder is protected from picking and scanning thanks to specially shaped pins. In the SY-MO version, locking pins feature additional hidden gates in order to grant higher protection.
Drilling protection
Hardened steel elements are standard for protection against drilling. The EPS cylinder is also available with enhanced drilling protection thanks to hardened metal elements.
Optional pulling protection
Special hard metal pins offer resistance against pulling the cylinder and plug in accordance with standards.
Take the extra security step by the EVVA security card.
Key copies, additional cylinders and lock charts are available from authorised EVVA Partners, providing the relevant proof of legitimacy only, i.e. the EVVA security card.
Technical protection thanks to the required specialist expertise
The technical features of an EPS key require extensive specialist knowledge and specialist machinery during production. Illegal fabrication is only possible with a great deal of expense.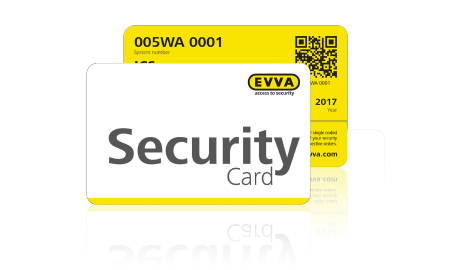 Reliable security for a host of applications
Be it in office buildings, schools or residential complexes, EPS works well in clearly structured master key systems and provides residents and staff with maximum master key system convenience. All doors where users have been assigned access authorisations can be accessed with one single key: Main entrance, letter box, basement and the own front door. Facility management companies will benefit from added control and less administrative tasks. 
EPS References
Here is a selection of successful projects.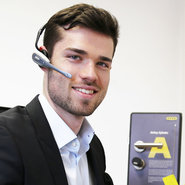 Business contact
For partners and companies
Aldridge Security Ltd. London
Send email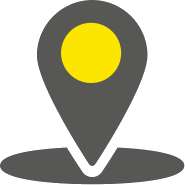 Master key systems
EVVA is also a genuine master key system professional able to tackle any levels of complexity in terms of organisational structures to implement them within the corresponding master key system.
Find out more about our master key systems