Xesar. Simply versatile
Security under control
The electronic Xesar locking systems represents security, flexibility, simplicity and transparent control. Virtual networks provide doors' security status to your desktop in a matter of seconds. Xesar offers many different access components – handles, escutcheons, cylinders and wall readers. Components are not only characterised by elegant design and meet maximum security standards, but they are also quick and simple to install. Xesar is the solution for anyone seeking a closed system with an individual IT infrastructure.
Xesar cylinder
Xesar cylinders are suitable for indoor as well as outdoor areas. Thanks to cutting-edge security technology the components are protected against all common tampering methods. Their modular design enables quick adaptations to the length on site. As hybrid cylinders it can be combined with most mechanical EVVA systems.
Xesar escutcheon
The Xesar escutcheon combines the benefits of a mechanical escutcheon and an electronic locking system. Thanks to its slim design and its clear lines the integrated reader unit is hardly noticeable. In this process, Xesar escutcheons can be used variably: solid or metal frame doors in indoor and outdoor areas as well as fire doors and emergency exit doors with panic bar solutions.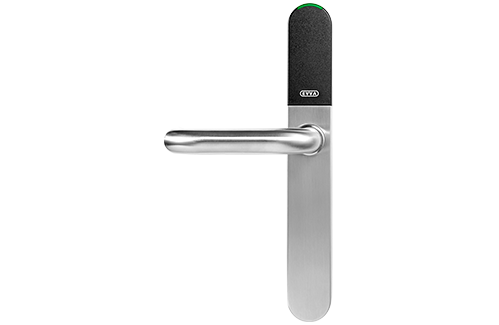 Xesar wall reader
The Xesar wall reader impresses with its superior design and high-quality material. It can be used indoors and outdoors, for lifts, as well as sliding and swinging doors. Equipped with an updater control unit it represents the security interface within the Xesar virtual network. In this process, several times a day,
it uses a virtual network to update identification media and door security features.
Xesar handle
The Xesar handle is the ideal organisational product solution for indoor areas. Our extensive range of handles and finishes provides the perfect solution for every situation. Assembly is quick and easy – simply screw on the component and it is ready to use.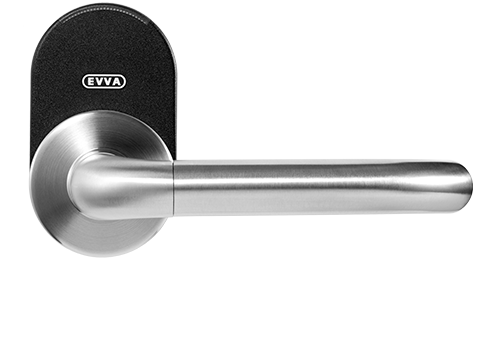 Hybrid cylinder
Electronic systems combined with mechanical systems
Mechanical and electronic systems combined in a single cylinder
Suitable for combination with all current, modular, mechanical systems
Quick and simple conversion of mechanical systems
Electronic, individual profile with combi key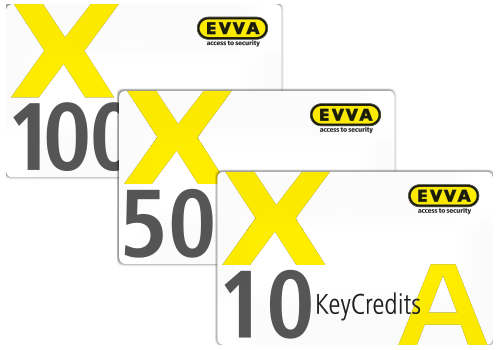 Full cost control
Thanks to flexible KeyCredits you are in absolute control over your Xesar system. Opt for individual KeyCredits to manage small and medium-sized systems or benefit from time-based KeyCredits for large systems subject to many changes to authorisations.
A KeyCredit is debited if access authorisations are changed or created. KeyCredits are available from all EVVA Partners. Purchased credits are uploaded to the Xesar software, also used to assign access authorisations.
KeyCredits 10, 50, 100
For systems with just a few users and/or infrequent changes to access authorisations, we offer KeyCredits with 10, 50 or 100 units.
KeyCredits Unlimited for 12 or 36 months
KeyCredits Unlimited for 12 or 36 months are the perfect solution for medium-sized and large companies. Create or change any number of identification media within the selected validity period.
The virtual network
The virtual network uses the issued identification media in circulation to exchange information between doors and software. The Xesar online wall reader is the reliable, central security interface within the Xesar virtual nework. They enable permanent security updates and keep the system safe and up to date.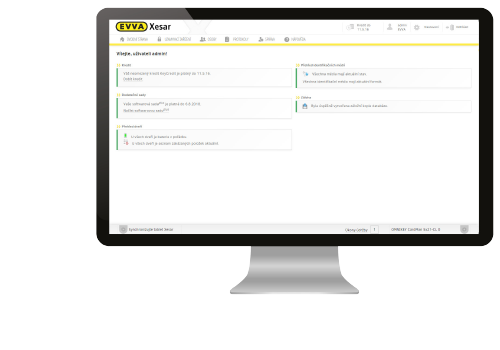 Xesar software
The Xesar software consists of the Xesar PC software and the Xesar tablet app. The software package includes: Schedule-based opening, door and user management as well as secure and complete event logs. Thanks to the coding station you can quickly and easily programme identification media. Admin Cards create an additional security level and protect from unauthorised manipulation.
The choice is yours
Whatever meets your organisational needs – you can select from many different identification media for the Xesar system – cards, key tags, mini tags or combi keys. Combi keys are used in hybrid systems. These are available in three different colours so you will always keep an overview. All Xesar identification media are based on secure Mifare Desfire EV1 technology.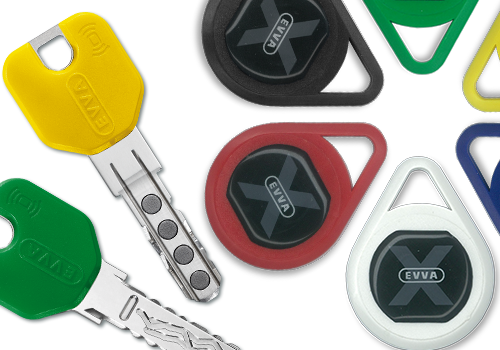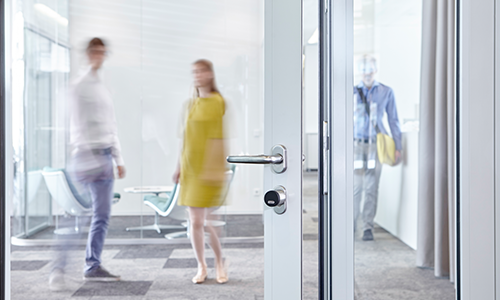 Versatile application options
Be it in residential properties, companies or public institutions – many people come in and out every day, but not everyone has access to all areas. Changing access authorisations and high levels of employee fluctuation further complicate the situation. Consequently, it is not only a challenge for operators of locking systems to organise them efficiently, safely and as part of a controlled process. Xesar helps you to efficiently organise processes and offers you the required flexibility in order to be able to react rapidly to possible changes.
E.X.PZ.KZ-S
Assembly Video