e-primo: Simply flexible
Security for your home and office
You demand high security standards and would like to remain flexible in the process? Then opt for e-primo. There is no need for PCs, software or wiring and thanks to flexible authorisation assignment you specify who has access to your facilities. e-primo applies intelligent user keys, such as key tags, wristbands or cards instead of keys. Authorisations are simply saved on the corresponding media where they can easily be changed.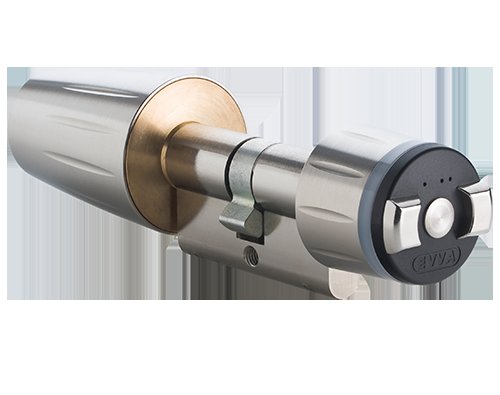 Your e-primo benefits:
Easy operation
Flexible authorisation assignment
Individual design selection
Quick installation
e-primo cylinders
e-primo cylinders operate on the basis of user identification media, such as key tags, cards, watches or wristbands. Programme said identification media directly at cylinders. Assign or delete authorisations as part of a straight-forward process. Installation is also very easy: e-primo matches all conventional cylinder elongations and does not require additional wiring.
Design that fits any environment
e-primo can adapt to different types of doors and environments. You select the elegant metal surface and the colour of the thumb turn.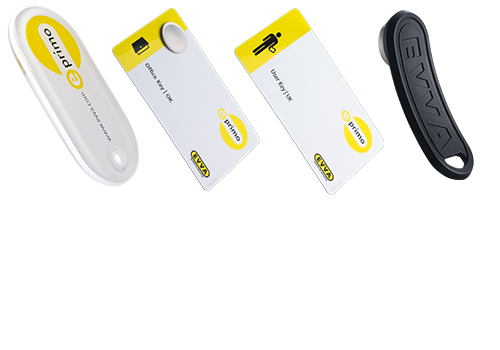 The choice is yours
With e-primo you can choose between iButton user keys, key tags and air user keys, i.e. cards and tags.
Assigning authorisations
As the owner (super user), you can grant and delete authorisations at any time. Consequently, you are always in control.
Operation
Operation is extremely simple using audible and visual signals. Simply hold the user key to the thumb turn, wait for the positive feedback signal from the e-primo cylinder and turn it.
Security in cylinders
e-primo cylinders feature drilling and plug pulling protection, providing protection against illegal opening methods. Even lost user keys are not an issue as authorisations for lost media can be deleted directly at the e-primo cylinder.
As flexible as your demands
Be it as part of business or private property, thanks to e-primo you can rely on an easy-to-use electronic access control that ideally meets your demands in terms of flexibility. Manage up to 249 different user keys per e-primo cylinder. In this process, one user key can be enabled for several e-primo cylinders.