Versatile application The Xesar and AirKey cam locks
News | 21. August 2019.
Have you heard about the new Xesar and AirKey cam locks? Cam locks are the ideal addition to your electronic access control system.
Cam locks are available in three variants with different thread diameters (MB19, MB22 and MB27).

They have the following features:
Locking direction and cam lock designs are based on the mechanical locking systems. The locking lever locks after it is disengaged (FVS - locked cam function). It can be used all over the world. Available in nickel, polished nickel and polished brass.

You can find more information at evva.com and in the EVVA Partner Portal.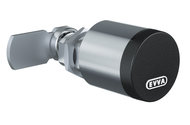 back