We are EVVA
News | 19. February 2019.
Who are EVVA employees and what gives them a sense of security?
Find out more about Thomas Hüller, our technical Support for EVVA Partners all over the world. His department supports the sales team, helps customers on the phone, and assists in tenders.

Where did you grow up?
I grew up in Vienna, then in Oberpullendorf. Since 2009 I moved back to Vienna.
What kind of professional training have you undergone?
I visited the secondary school, then HTL Eisenstadt for mechatronics, specialized in automation technology.
What are your hobbies?
I am addicted to HiFi, everything about loudspeaker, and home cinema. My hobbies are also computer and cars.
Do you have a favourite EVVA system and why?
My favorites are 4KS and AirKey. They are also in combination a good team. I am using 4KS in private also. AirKey is very flexible.
What gives you a sense of security?
My girlfriend, my family and my job.
Thomas Hüller (29) has been working at EVVA since June 2016.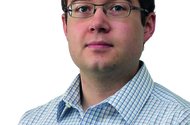 back