New: AirKey bracelet
01. February 2019.
As a result of the increasingly expanding market for bracelets as access media we have enhanced the AirKey range by the AirKey bracelet.
In particular for developments, such as gyms, swimming pools and schools bracelets will be available featuring JCOP combi chip and unencrypted Mifare Desfire J80K + D08K. This will allow their use within AirKey systems as well as to apply the unencrypted Mifare Desfire segment for third-party applications, such as canteens or coffee vending machines. The bracelet meets IP67 protection rating specifications. The strap includes the following materials: The body is made of PC/ABS. Consequently, it is very durable and highly resistant. It is easy to disinfect and does not feature allergens.
TECHNICAL DATA
Colour: black
Protection rating: IP67
Dimensions: Strap: 280x18mm
Body: 42x36x5.1mm
Weight: approx. 20g

The AirKey bracelet is available to order as of now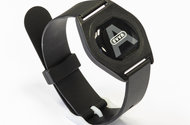 back