Reliable business partnership
News | 13. July 2023.
Trust and reliability as the basis for long-term cooperation.
Trust is an essential element in every relationship, especially in the world of business. As a leading provider of security technology, EVVA has made it its top priority to establish close and long-term relationships with its partners and customers. This is the only way to maintain successful business relationships over decades.
EVVA impresses in satisfaction surveys
In satisfaction surveys, EVVA regularly reaches the top spot and is appreciated by its partner companies for the wide range of products, high quality and security technology training provided by the EVVA Academy. Family collaboration in particular has been highlighted time and again. This often results in cross generational business relationships, such as with Albrecht and Jürgen Felgner from Felgner Sicherheitstechnik GmbH & CO KG in Dresden since 1971 or with Favoritner Schlüsseldienst in Vienna since 1973.
Trust, reliability and honesty
"In today's business world, it is often difficult to build and maintain successful partnerships. Many companies focus on short-term profits while forgetting the importance of long-term relationships. At EVVA, however, we have a different philosophy. We believe that partnerships should be built on trust, reliability and honesty. This is lived handshake quality, and it is the foundation of our successful cooperation with our partners," says Hubert Mildner, International Sales Division Manager at EVVA. "We are aware that our partner companies rely on our products and services to satisfy their customers. That is why it is important to us to build close and long-term relationships based on trust, professionalism and mutual respect. We attach great importance to our partners seeing us as a reliable and trustworthy business partner who supports them and stands by their side."
» During this long period of time, you can of course see how the business and the industry has changed and developed. But I still have my personal contacts at EVVA – the products are first-class in terms of quality, both then and now. « Rudolf Elias, Managing Director of Favoritner Schlüsseldienst
Long-standing EVVA Partners report
Rudolf Elias, former Managing Director of Favoritner Schlüsseldienst, has been in business with EVVA since 1973 and has already prepared a number of stories about EVVA. He proudly reports on his long-standing cooperation with EVVA: "Over the years, we have obviously noticed how the business and industry have changed and evolved. However, I still have my personal contacts at EVVA – the products are firstclass in terms of quality both then and now."
Michele Loconsole and his company Loconsole Michele s.r.l. also have over 30 years of experience in wholesale and retail and a long-standing partnership with EVVA. Based in Bari, Italy, it offers exclusively premium products such as door and window frame accessories, paint, tools and items for the ever-increasing DIY market. "I am thrilled that the collaboration with my EVVA consultant has always proven successful. EVVA is also the only company where I receive special cylinders in an exceptionally short period of time," he says. For him, the technical support of the Italian subsidiary in Villorba is also an important cornerstone for the successful and long-standing partnership with EVVA. "This ensured that the users who purchased the products were able to use them correctly and effectively."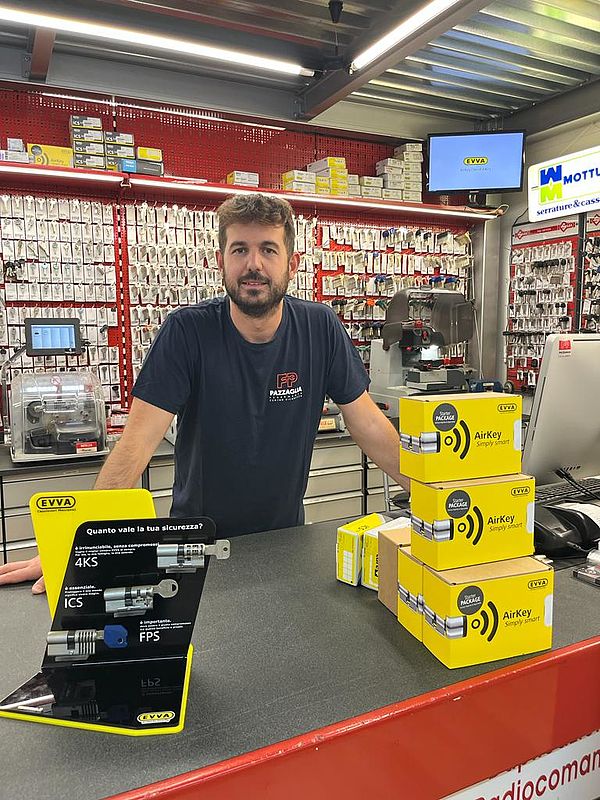 » The technical support of the in-house experts was able to answer all my questions and provide assistance with a wide range of problems. «Michele Loconsole, Managing Director of Loconsole Michele s.r.l.
Another example of how EVVA supports its partners is the history of Hans Mahler, owner and managing director of Hans Mahler AG in Zurich. In the summer of 2017, a large Swiss residential estate faced the challenge of not receiving a guaranteed master key system on time. This would have meant paying a contractual penalty. However, together with EVVA, the company was able to complete the installation on time. Hans Mahler talks about the collaboration: "This led to an EVVA employee sitting on the plane with 400 newly produced cylinders and arriving at Zurich airport at 9 p.m." Hans Mahler AG then installed the plant with six employees overnight at the customer's premises. "At 9.30 a.m. the next day, the housing company was able to proudly hand over its keys to the happy tenants. We had pulled it off together with record-breaking teamwork!"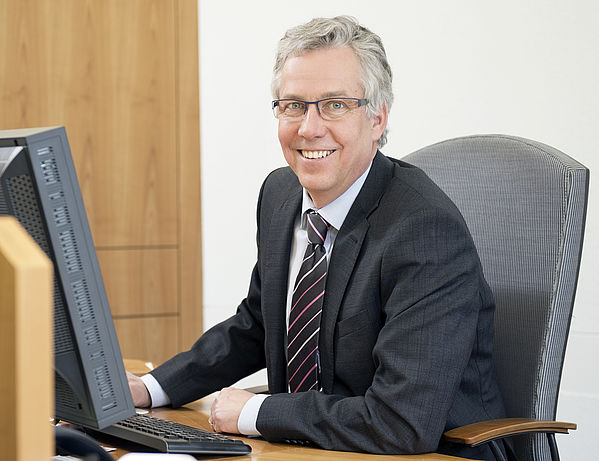 Aigner Sicherheitstechnik in Munich also offers proof of excellent, longterm teamwork. "Under my 21-year leadership, I have chosen EVVA because it was a good fit for me, which is extremely important to me in my professional life. It is a family-run company as we are." The company has now been affiliated with EVVA for a total of 31 years and Michael Aigner, who took over the company from his father in 2002, is still an EVVA fan: "I am always surprised by what they can do at EVVA. For example, we've been looking after a major customer together for more than 15 years. This also leads to shorter delivery routes or to custom builds that would not normally be available. Overall, I am very satisfied with EVVA's communication with my end customers. This is a success story: EVVA and Aigner, a 100% yield of what we do. That's what our customers appreciate." Michael Aigner also defines the EVVA partnership as a marriage. The comparison is logical: "The partnership must be socially acceptable for both sides, but also forward-looking. What's more, it must be possible for constructive criticism to have an effect on both sides. This makes all the difference to other manufacturers if you pull together and continue to position yourself together in the future.
In good times and in bad times."

EVVA provides support from quotation through to project planning and installation. In Austria, for example, EVVA partner Bernd Dietrich, an enthusiast for 22 years, reports: "When I founded the company 22 years ago, EVVA supported me. Thanks to the good conditions, I was able to complete my projects for my customers in a satisfactory manner. EVVA is also a reliable manufacturer now that there are ever more complex issues with electronic access systems. Partner companies are by nature not IT companies and many locksmiths are not familiar with server installations. That's why it's all the more important to have competent support from experienced technical consultants. The industry is increasingly moving in a direction that requires more electronics expertise. The main focus is on customer loyalty and that we support projects from A to Z."
The industry is changing
A sign of the times is the increasing transparency through the Internet. Digitisation has ushered in a turning point from which new challenges and new opportunities arise for companies. It has allegedly become easier for end users to gain an overview of the broad topic of access. However, what is usually forgotten here when it comes to technical advice, follow-up and the best solution, is the most important and popular EVVA Partners. "Business partners are getting younger and younger and are growing up with digital comparison options. This also changes the approach to larger projects. Here, a price is increasingly demanded at the touch of a button and used as a comparison. However, when it comes to successfully completing a project, reliability and the associated trust is still irreplaceable." Ideally, friendships can also be fostered over decades of collaboration. This is what happened in the case of Bernd Dietrich and Patrick Breuss, EVVA consultant. This also applies to Michael Aigner and Axel Ossmann, Sales Manager for Germany. Building reliable partnerships means trust and long-term collaboration.
EVVA is a company that lives by this type of business relationship and makes this philosophy successful. It is not only important that the company focuses on quality and professionalism, but also on human values such as honesty, respect and reliability. At EVVA, long-standing partnerships are not uncommon; they are almost a tradition. EVVA's partner success stories are clear proof of this.
back