Interview: Squaring the circle
News | 26. August 2021.
Johann Notbauer, Group Division Executive for Market Innovation and Technology, together with Alexander Scharinger, Akura 44 Product Manager, reports on the development of a completely new product family before and during a pandemic.
We are currently experiencing a pandemic and EVVA is launching on the market a new product with its own production line. How is that going?
Notbauer: The development of Akura 44 already started when corona was just a beer brand. Our aim was to gain a foothold in reversible key systems and to offer the familiar EVVA premium quality in segments that are dominated by price pressure. Despite the pandemic, the owners decided to stick to the original plan. And it became evident here that a crisis also brings positives. We had to think about solutions for how we could achieve our goal despite the changed environment. This required a clear focus on the essentials and streamlined processes in all areas.
Are there innovations in the development?
Notbauer: With Akura 44, we have deliberately taken a new approach: we involved our partners in the development as early as possible by inviting them to test the new product. After all, the goal of a new product is not fancy new technology for its own sake, but the benefit for the user. This is the only way to turn a solution into a success. This type of customer-centric work is becoming increasingly important. With our electronic systems as well, we offer so-called click dummies, where the customer immediately sees what the solution will be like. This saves us pointless effort if our developments are not going in the right direction.
What was the development process with Akura 44 like?
Scharinger: Akura is our first product where customers and partners were involved in development right from the start. We didn't want superfluous functions that cost more and which no one in the market is interested in. And the decision was spot on. In the various interaction loops, we were really able to design Akura 44 precisely for the market. And we were able to correct errors before we started production.
Notbauer: In that way, we succeeded in combining performance, functionality and an attractive price. We have broken the dogma that lower costs mean lower quality; we squared the circle, so to speak.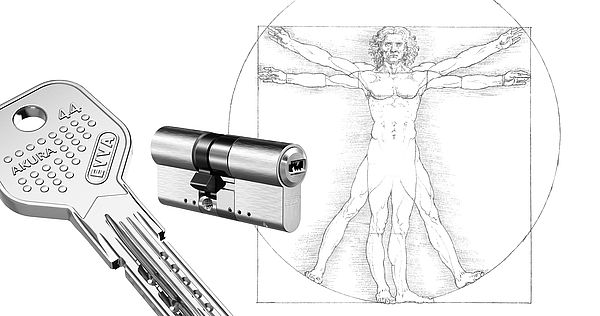 Is Akura 44 the start of a new product family?
Notbauer: It is definitely designed as a modular system and can be further expanded. Any further development will respond to market requirements. This also applies to our existing product families. Here we have to ask ourselves the question: do we want to develop further or do something new? What's definitely new for Akura 44 is the way it is manufactured.
Scharinger: Yes, we have significantly optimised the production processes and even built a new building for the production. A challenge for EVVA that is changing the way we think in all areas of the company. In the past, additions were made to the machinery, but now production is already being considered during development and is ready to go before the first key has been sold.
back