Everything with a smartphone
News | 08. March 2021.
NEW is a municipal utility company with strong roots in the Lower Rhine region. In total, around 2,000 employees supply 400,000 customers with electricity, 157,000 with gas and 102,000 with water.
Partnership-based – regional – innovative
The company stands for a partnership-based, regional and innovative energy and water system and related services. The customer centres offer comprehensive service – online or on site. Regional services include public transport with 245 buses and the operation of eleven indoor and outdoor pools. Commissioned by the cities of Mönchengladbach and Viersen, NEW also operates the public sewer network with a length of around 1,740 kilometres.
Headquarters with an aspiration
The NEW headquarters are located in Mönchengladbach. In accordance with the Group strategy: "Everything with a smartphone, everything in the cloud". The company's goal was to enable even the access systems using smartphones and to control authorisations centrally, customisable to the users.
A small number of suppliers worldwide
Only a few companies offer purely electronic solutions for such complex requirements of the desired size: a total of 216 wall readers and 616 AirKey cylinders were installed for the 2,000 smartphones of employees as well as 300 identification media in the form of key tags – all within an ambitious time frame.

The customer is king
In addition to the scale of the project, there was a very special requirement: the system was supposed to be integrated into NEW-owned IT. No problem for EVVA! After all, AirKey has an API interface, the AirKeyCloud Interface. Other special requirements included easy app installation and simple registration for users, as well as quick and easy unlocking with a smartphone. All while taking accurate logging into consideration, which should still comply with the provisions of the EU General Data Protection Directive.

EVVA makes it possible
Not all requirements could be fulfilled 100% at the outset. But EVVA was able to promise to develop a prototype within six months. Project manager Klaus Schöneich comments: "This was a big challenge in terms of investment, but also in terms of budget and manpower requirements. "

High score for EVVA
Even though the customer's requirements were demanding to say the least, EVVA was able to meet them in all areas. With AirKey, EVVA supplies one of the few systems that provides full support, offers high speed and guarantees a reliable system. A big asset: the system is cloud-based, which saves the customer from operating their own server.

As secure as online banking
All data is stored on the EVVA server, anonymously with multiple backups in case of power failures, meeting strict Austrian security standards. This central administration protects users' digital keys much better than would be possible with individual protective measures. Data is transferred securely between NEW's Internet browser and the EVVA server via a protected https connection, making it as secure as online banking. The highly secure ECDSA and AES encryption processes provide additional protection to the AirKey system and its components.

Checked single-handedly
The original plan was to implement the system with a Partner. However, due to the size of the project, the necessary upfront investments and the guarantee of error-free delivery within six months, the cooperation did not work. EVVA therefore acted as a direct supplier. Klaus Schönbicher says: "The project demanded a lot from NEW's specially set up task force but the management also placed a great deal of trust in us that the necessary investments would ultimately pay off. And they did."

On-site implementation
After successful inspection and functional testing, NEW installed the components with its own employees, who were specially trained by EVVA beforehand. The Partner originally designated for the project was also able to be brought back on board for assembly. In summer 2020, the headquarters were fully equipped and NEW was one step closer to realising its philosophy of "Everything with a smartphone".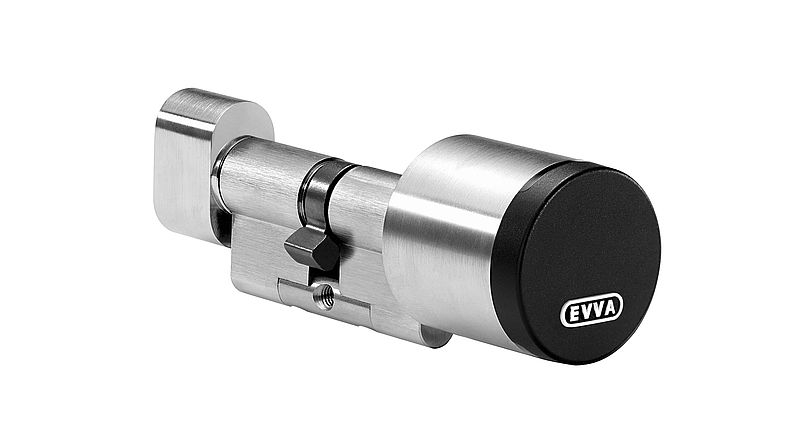 THE PROJECT IN DETAIL
Electronic locking system: AirKey
Quantity: 216 wall readers, 616 AirKey cylinders
Used by 2,000 smartphones, mainly Android, but also iOS supported
300 identification media for external employees / contractors / cleaning companies
back